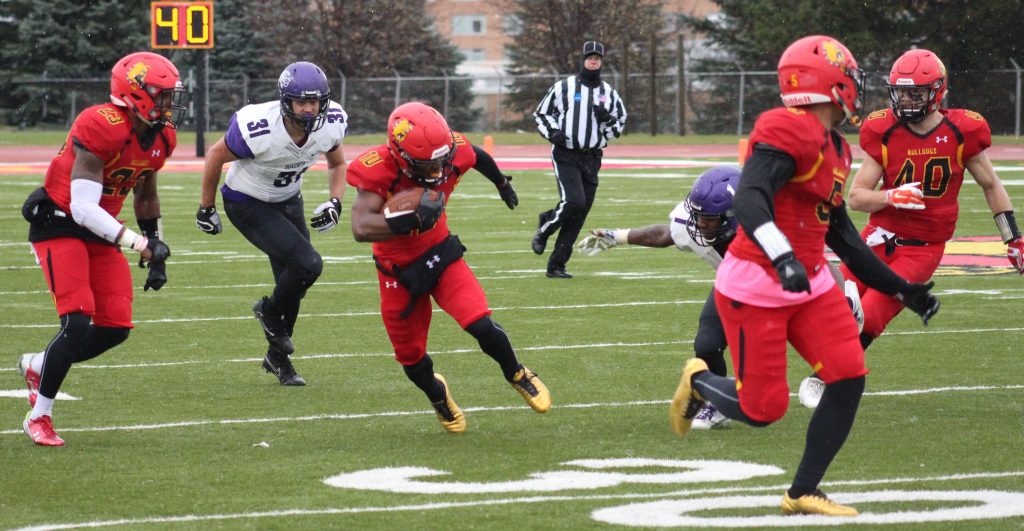 Click here for a full photo gallery from the game.
It was a tale of two halves for the Ferris football team in a 24-19 victory over Ouachita Baptist.
Things didn't look good for the No. 4 Ranked Bulldogs on Saturday, Nov.18, as the Tigers started their day off with a 71-yard touchdown pass down the middle of the field. The touchdown hurt, but what really stung was the fact that there wasn't a single defender around him.
Then the Bulldogs came out, hungry to prove themselves and drove all the way down inside Ouachita Baptist's 5-yard line. Then it happened. Junior wide receiver Keyondre Craig pulled in a pass, tried to turn towards the end zone, and fumbled the football, giving the Tigers possession.
The early fumble was the least of Ferris' problems, as the offense fumbled the ball a total of five times in the first half with three of those resulting in a turnover and added a Reggie Bell interception to the mix.
The Bulldogs did manage to find the end zone once in the first half after Bell gained 57 yards on the ground and let Jahaan Brown waltz in for a one-yard touchdown, bringing the score to 7-13 at halftime.
Head coach Tony Annese likely wasn't pleased with the play of his team, and it showed as the Bulldogs came out and dominated the game's final two quarters.
This time it was the Tigers that struggled with turnovers, turning the ball over four times, including a fumble that was returned for a touchdown by Jaleel Canty in the third quarter.
Canty wasn't the only Dawg to have a huge day on the defensive side, as junior defensive end Zach Sieler was all over the field. Sieler notched 12 total tackles and recorded six quarterback hurries.
A big surprise in this game was the absence of the Bulldogs' offense. With Bell healthy, the expectation was to see him out there each and every drive. The coaching staff of Ferris decided however to employ a two-quarterback system, alternating between Bell and Travis Russell throughout.
Expect to see a healthy dose of Bell in next week's NCAA Division ll playoff game as the Dawgs try and kickstart a lethargic offensive unit.
Ferris will look to build off the momentum they created in the second half when they head down to Kansas to take on the top-seeded Fort Hays State on Saturday, Nov. 25. The time for that game is yet to be determined.