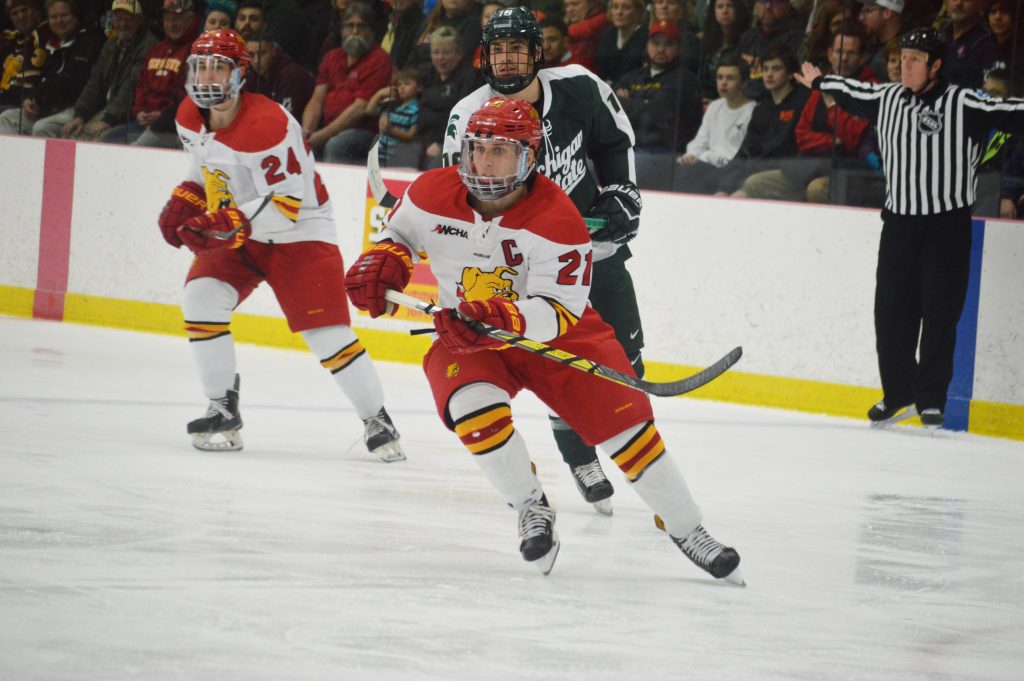 The Bulldogs couldn't solve the Michigan State defense Saturday night as the Spartans claimed the series sweep with a 3-1 victory.
Despite throwing 30 shots on the Spartan net, quality scoring chances were few and far in between for the Bulldogs. For the second straight night, the Bulldogs trailed 2-0 and the Spartans did what they needed to avoid blowing that lead two nights in a row.
Teddy Bears were raining from the Heavens after forward Corey Mackin found a rebound and buried one home at 2:21 of the third period. The momentum shifted to the Bulldogs after Mackin's goal but any chances at a comeback were lost when Carson Gatt scored to put the Spartans up by two for good.
The Spartans opened the scoring when forward Brennan Sanford made a nice play to pick up the puck before driving down the left side of the ice and sending one top-shelf over Ferris goaltender Justin Kapelmaster. The shorthanded goal came shortly after The Bulldogs were unable to convert on a pair of chances with a two-man advantage.
Spartan freshman Mitch Lewandowski continued to frustrate the Ferris defense and capitalized for his third goal of the weekend at 8:05 of the second period to push the Spartan lead to 2-0. Mitch Lewandowski had four points total on the weekend after his two-goal performance led the Spartans to a 3-2 win over the Bulldogs on Friday night.
The Spartans responded to the Bulldog pressure in the third period with Gatt's goal at 11:20 of the final period to help secure the second Spartan victory in as many nights. The Spartan defense shut down the Bulldog attack the rest of the way while Michigan State goaltender John Lethemon stopped 29 of 30 shots.
Though they looked good against Michigan State, the pair of Bulldog losses come after a three-game winning streak had the team feeling confident. This was the first time this year the Bulldogs were swept despite owning a 5-8-1 record.
Kapelmaster made his return to the net after sitting out Friday night for the first time in four games. He stopped 22 of the 25 shots he faced and looked impressive with a number of big stops throughout the game. Kapelmaster sits at 3-5-0 on the year after the loss.
The bulldogs return to action next weekend when they travel south to take on the Alabama-Huntsville Chargers both Friday (Nov. 24) and Saturday (Nov. 25) night. Both of those games have a scheduled puck drop of 8:07 p.m.