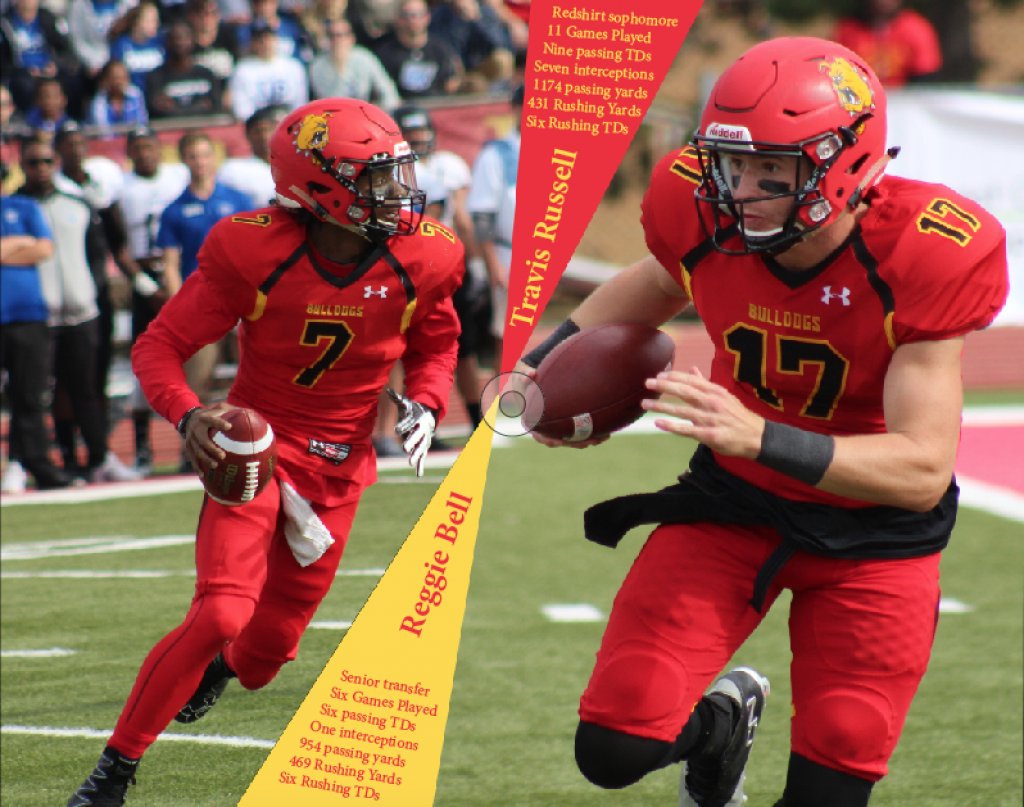 For the fourth straight year, the Bulldogs will be battling in the second round of the NCAA playoffs when they take on Fort Hayes State this Saturday at 2 p.m., but this year's journey has been anything but normal.
Coming into the season the goal for the Bulldogs was to keep senior quarterback Reggie Bell healthy. After an ankle injury in just the second week of the season, sophomore Travis Russell was called on to lead the team on the road against Ashland in a nationally televised game.
Russell struggled, going just 12 for 29 through the air for 98 yards and two interceptions. The Bulldogs came away with a 20-3 loss and without Bell, and any offensive hope was fading away. Since then, Russell has gone 81 of 156 for 1,076 yards through the air with nine touchdowns. He's also added 431 yards and six touchdowns on the ground.
"A lot of guys have been encouraging him as the season's progressed. Throughout the games, he's been doing better, and his confidence has been building up. We always knew he could go out there and roll just as good as the other guys," receiver Malik Taylor said.
The 6-foot-2, 210-pound quarterback out of West Catholic has found his groove with the Bulldogs. Russell led the team to three straight victories after his rough start against Ashland and proved to his teammates that he was capable.
"He's doing good. He's gotten comfortable with us receivers. He's getting more confidence every week," receiver Keyondre Craig said.
Just when things started rolling again for the Bulldogs, Bell was nearing 100 percent health and with a tough Grand Valley State team around the corner and playoff hopes on the line, Russell was back on the bench.
Bell threw for 228 yards against the Lakers but added 91 yards on the ground including two touchdowns, including one with 15 seconds to go that tied the game. What was most impressive with Bell's performance was that he led two touchdown drives in the final minutes of the game after taking shot after shot from an aggressive Laker defense.
"Reggie [Bell] did what he had to do. That's playing tough, that's the game. When we need you, you got to suit up and do what you got to do. He has a lot of heart," Craig said.
Since the 28-27 win against Grand Valley, Bell and Russell have both seen action for the Bulldogs. The growth of Russell has given the Bulldogs an opportunity to take some of the pressure off Bell's shoulders who's thrown for 954 yards and six touchdowns while adding six more on the ground along with 469 yards.
No matter who's under center at any point against Fort Hayes State on Saturday, the team is comfortable and confident with either one of the two quarterbacks.
"It doesn't matter which quarterback is out there. We all have confidence in both of them. Whichever one goes out there is going to go out there and do good," Taylor said.