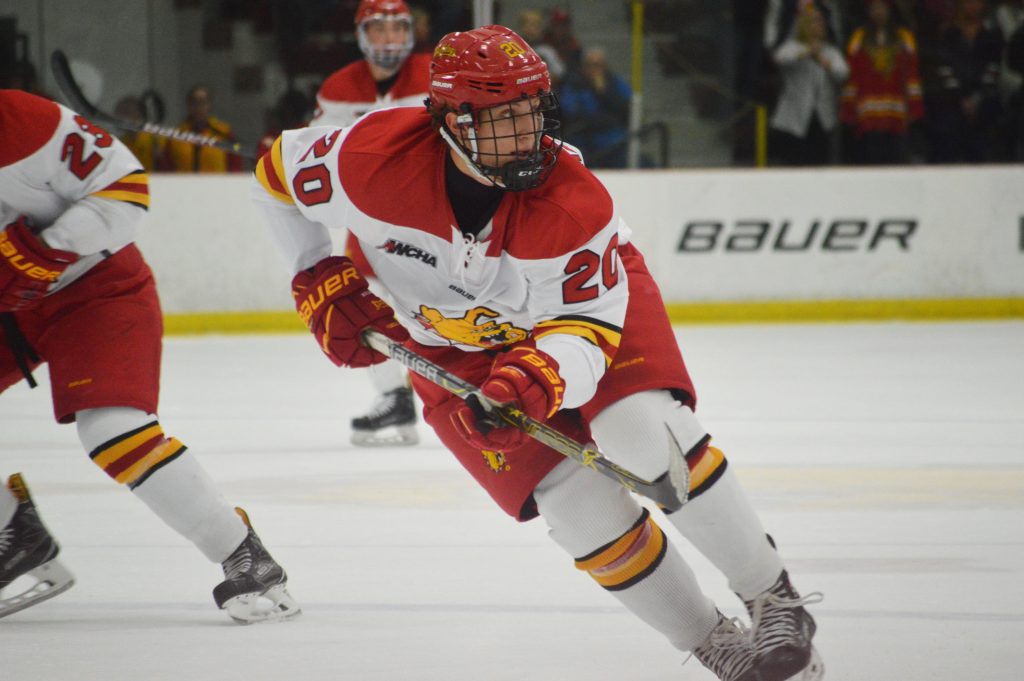 The Bulldogs bounced back from last weekend's sweep with their third straight WCHA victory against Alabama-Huntsville, 6-2 Friday night.
After trailing by a pair early in the game, the Bulldogs (6-8-1) rallied for six straight goals in the victory. The goal outburst came as a bit of a surprise to a team that has struggled scoring this season. The Bulldogs now have now scored a combined 14 goals in their last three conference games.
Forwards Mitch Maloney and Jasen Fernsler led the team as they both put up four points on the night, with Maloney scoring a natural hat trick in the third period to help bury the Chargers. The hat trick was the first from a Bulldog since 2013.
The Chargers led 2-0 less than ten minutes in when they got goals from Adam Wilcox and Josh Kestner. After that the Chargers were unable to defend the aggressive Ferris attack.
Liam MacDougall's first collegiate goal put the Bulldogs on the board at 13:55 of the first period. Fernsler tied the game nearing the halfway mark when he found a loose puck in front of the net to even things at two.
A few moments later, captain Corey Mackin found the game-winner to help send the Bulldogs into the third period with a 3-2 lead. The final twenty minutes saw the weekly installment of the Mitch Maloney show as he put nail after nail in the Charger coffin to seal the victory.
Maloney scored his first goal just 36 seconds into the final frame and never looked back, netting two more in the next twelve minutes. Fernsler assisted on all three of Maloney's goals.
The win put the Bulldogs record at 3-3-1 in WCHA play, good enough for a fifth-place tie with the Chargers. Saturday's game at Huntsville will dictate who takes sole possession of fifth place.
Puck drop is set for 8:07 p.m. for Saturday's game in the hockey capital of the south.