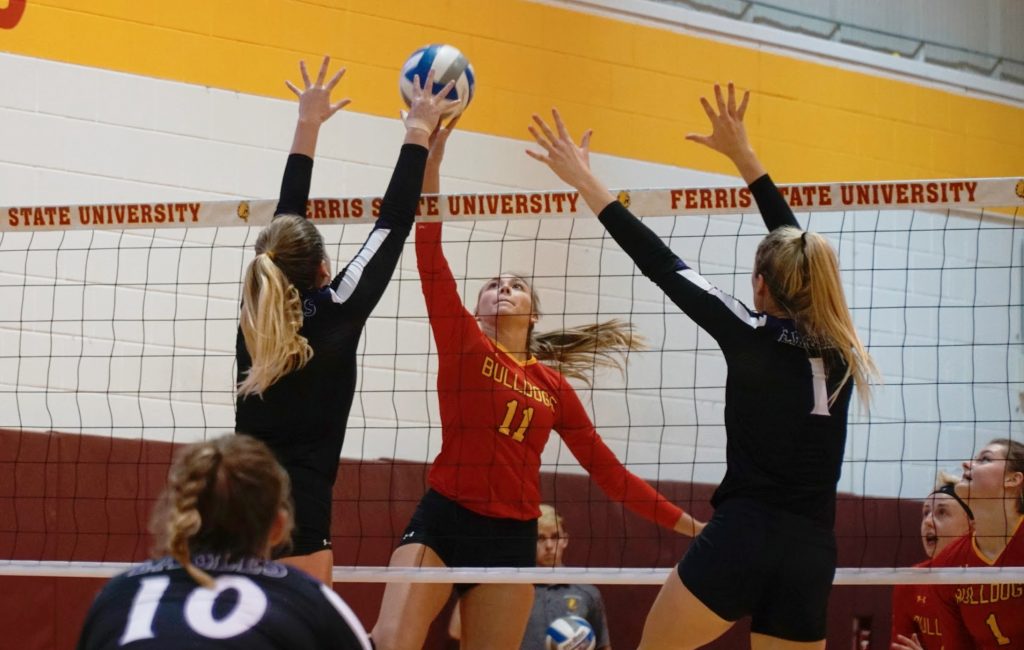 The Ferris women's volleyball team captured the 2017 Great Lakes Intercollegiate Tournament (GLIAC) Championship for the fourth consecutive year on Nov. 19 against Michigan Tech.
This achievement of the women's team makes them the first team in league history to capture four straight GLIAC Championships.
The team also captured the regular-season GLIAC Championship title for the fourth straight year with a 13-3 league mark.
The Bulldog volleyball team is led by head coach Tia Brandel-Wilhelm, who is in her 22nd year at Ferris. Brandel-Wilhelm knows that to be successful, you can't dwell on past accomplishments.
"Every season is a new season. We consistently focus on the team we have and the season we are in," Brandel-Wilhelm said.
The Ferris women's volleyball squad received its seventh consecutive National Collegiate Athletic Association (NCAA) Tournament berth as the announcement of this year's tournament field was made in an online selection show Nov. 19. The selection is no surprise after finishing the 2017 campaign with a 23-7 overall record.
"We always aim to be 1 percent better every day and that's just a part of the culture our coaches have instilled into us," senior middle hitter Nicole Malouhos said.
The senior class has posted an overall record of 109-21, has made four straight NCAA playoff appearances, two straight NCAA Midwest regional finals appearances and has won four straight regular season GLIAC Championships and four straight GLIAC Tournament Championships.
"Our seniors are fantastic," Brandel-Wilhelm said. "They have grown as players and leaders for this team. We are so proud of their work and their accomplishments and their leadership."
Ferris will be making their seventh consecutive NCAA Tournament bid and has advanced to at least the regional semifinals each of the last six years. Ferris' upcoming regional appearance will represent the program's 22nd all-time.
The Bulldogs have compiled a 17-22 overall record in the NCAA Tournament.
"All 16 people are all in. The red shirt freshmen, the people who don't play, the people who are close to playing and the starters," senior middle hitter Ayanna Buckley said. "We go into every practice with the mindset to get better."
The team will be in action on Thursday, Nov. 30 against McKendree University in the NCAA Midwest Region Quarterfinals at 6 p.m. in Romeoville, Ill.
Click here for more coverage of the Ferris volleyball team.