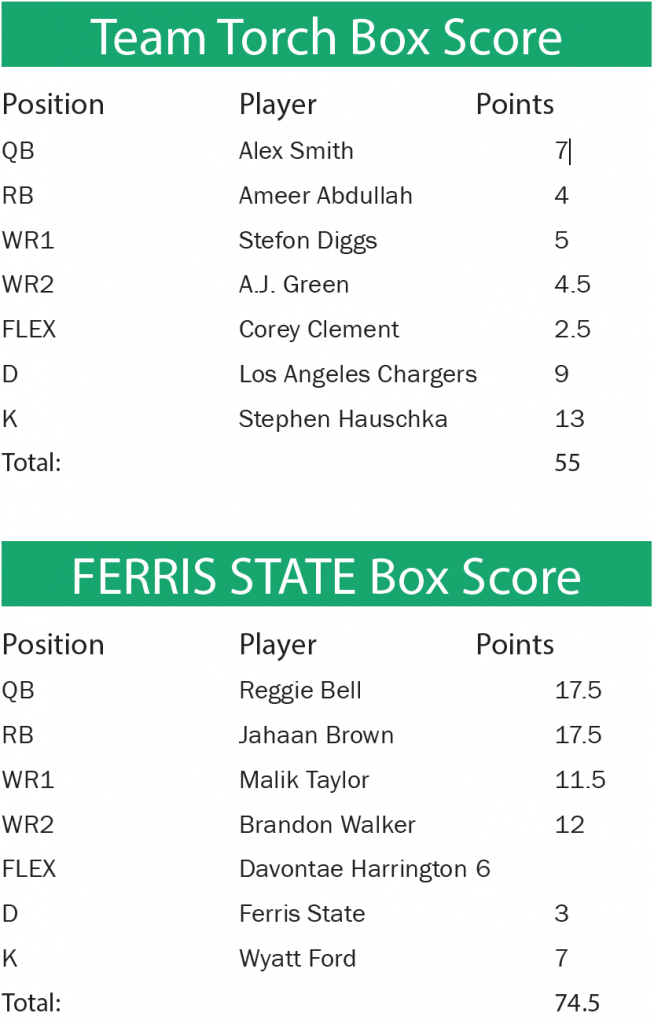 Ferris football just keeps on rolling through the competition while simultaneously obliterating the Beaulldogs, as if my fantasy season wasn't already lost long ago.
As we continue to take on the powerhouse program for fun at this point, the Bulldogs continue to edge out their NFL competition, especially in the quarterback and running back positions.
Both Reggie Bell and Jahaan Brown produced 17.5 fantasy points for Ferris, as Bell recorded one touchdown pass on 168 yards through the air. Despite being the leading rusher, Bell was unable to find the end zone on the ground. Instead, Bell left that up to Brown who ran in two touchdowns of his own on 57 rushing yards.
Not one of my offensive players were able to breach ten points this week. The highest performer, quarterback Alex Smith, gained seven fantasy points while running back Ameer Abdullah amassed only four.
The receiving core of A.J. Green and Stefon Diggs combined weren't even able to breach the ten-point mark as the two gathered a total of 9.5 points.
My fantasy defense was the highest performer this week and boy, did they perform. The Chargers defense gained 19 fantasy points in a 28-6 win over the struggling Dallas Cowboys.
My second highest performer, kicker Stephen Hauschka, was able to bring the Beaulldogs 13 points after a nice victory over the Chiefs, another program who has lost their groove as of late.
We're drawing closer to the point where saying "there's always next week" just won't cut it anymore for the Beaulldogs, so I'm playing a wild card this week.
We were lucky enough to have Bulldog kicker, Ol' Reliable himself, Wyatt Ford, make the week 13 picks as the Dawgs look to put up big numbers and advance even deeper into the playoffs when they take on Harding in Big Rapids at noon on Saturday, Dec. 2.
Here are Ford's picks along with some background as to why his picks will get the Beaulldogs their second win of the season:
QB – Tom Brady: Stick with the G.O.A.T. With a lot of injuries on the Bills offense, it may put a lot of defense on the field against the Patriots offense and give Mr. Brady more opportunities to carve up Buffalo.
RB – Kareem Hunt: Hunt's been silent the last few weeks, perfect time for him to explode against a struggling Jets team.
WR 1 – Marquis Lee: Still without Andrew Luck, the Colts' defense will be forced to step up. I'm guessing they'll have a tough time against Lee, who has two touchdowns in the last three games.
WR 2 – Dontrelle Inman: Solid option after being picked up out of free agency and already becoming one of Trubisky's favorite targets. Inman has nine receptions for 135 yards so far and will be a main target over the middle against the 49er defense.
FLEX – Cole Beasley: With struggling offense and no Zeke, everyone is focused on Dez, so Beasley may be able to find open spots in the defense where they aren't as focused on.
Defense – Ravens: An inconsistent Lions offense will face a big test at M&T Bank Stadium. Matt Stafford will have to take some chances over the middle, allowing this secondary to make some big plays.
K- Brandon McManus: Struggling offense and great weather in Miami may give McManus a lot of opportunities with the kicking game.