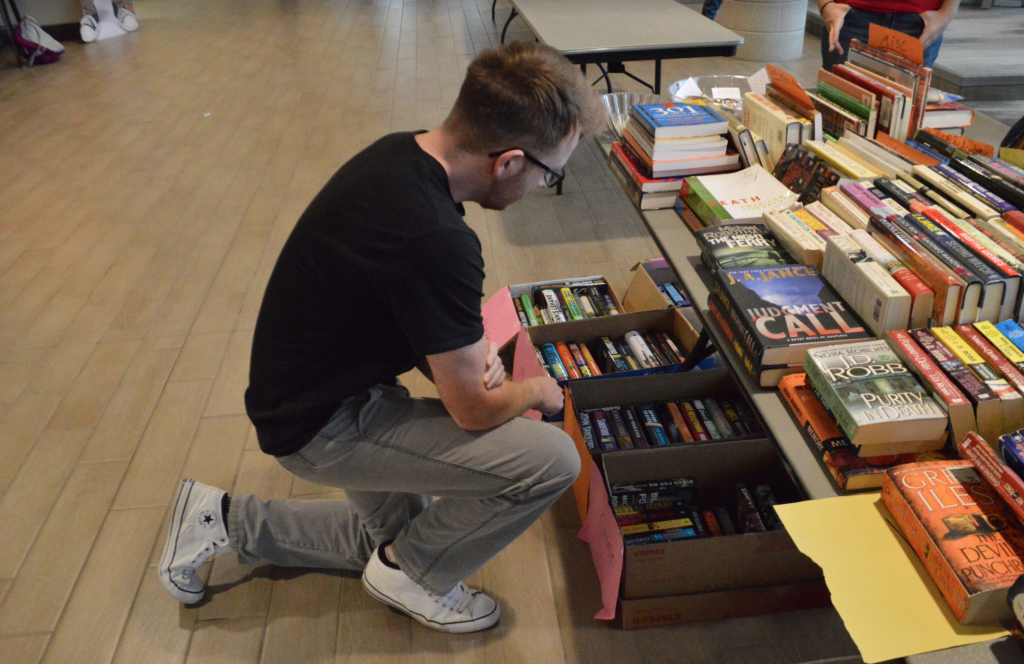 Students will find themselves involuntarily cracking textbooks open over the next few weeks in preparation for exam week. Luckily, the English Society has a goal of helping students open books they actually want to read.
The English Society Used Book Sale Fundraiser took place Tuesday, Nov. 14.
"Books were donated by professors, family and fellow students," Ferris English senior and English Society president Alexa Bourne said.
Though the English Society has done a bake sale this year to raise money for the Shakespeare festival which will be held on April 11, this is the first year where a book sale was held as well.
"I was new to campus and didn't know many people. I went to the major minor mixer and I met the president of the English Society and got roped into going to a meeting. I haven't missed a meeting since," Ferris English sophomore Paige Brady said.
Brady has been the vice president of the society since spring 2017 and will be working behind the scenes at the Shakespeare show.
"The book sale is a great way for us to see who really is interested in literature. Our group has always been very small," Ferris English senior Michelle Harvey said.
Being the English Society treasurer since 2016, Harvey is excited for the society to be adding more to the Shakespeare festival this year other than just scenes.
There are some students on campus who seem to have their hearts bound to all things literature, while some are looking to rekindle that bond.
"I never really get captured in a book enough anymore to make me want to read it over watching Netflix or fooling around on my phone. After writing scores of essays on novels in high school, I lost that touch with books and moved on to films and video-based media," Ferris television and digital media productions sophomore Marcus Gurnee said.
What inspires Gurnee to read a book is generally a suggestion from a friend. However, he hasn't heard any suggestions in a while. Even though classic literature is not one of his top picks as far as genres go, he does think highly of Shakespeare.
"I think Shakespeare was revolutionary in writing, as he broke the normal boundaries of that time. In today's literature, there are no boundaries," Gurnee said.
For more information on the English Society and their upcoming events, visit facebook.com/FSUEnglishSociety or contact English Society president Alexa Bourne at bournea@nullferris.edu.
Click here for more from the Torch's lifestyles section.