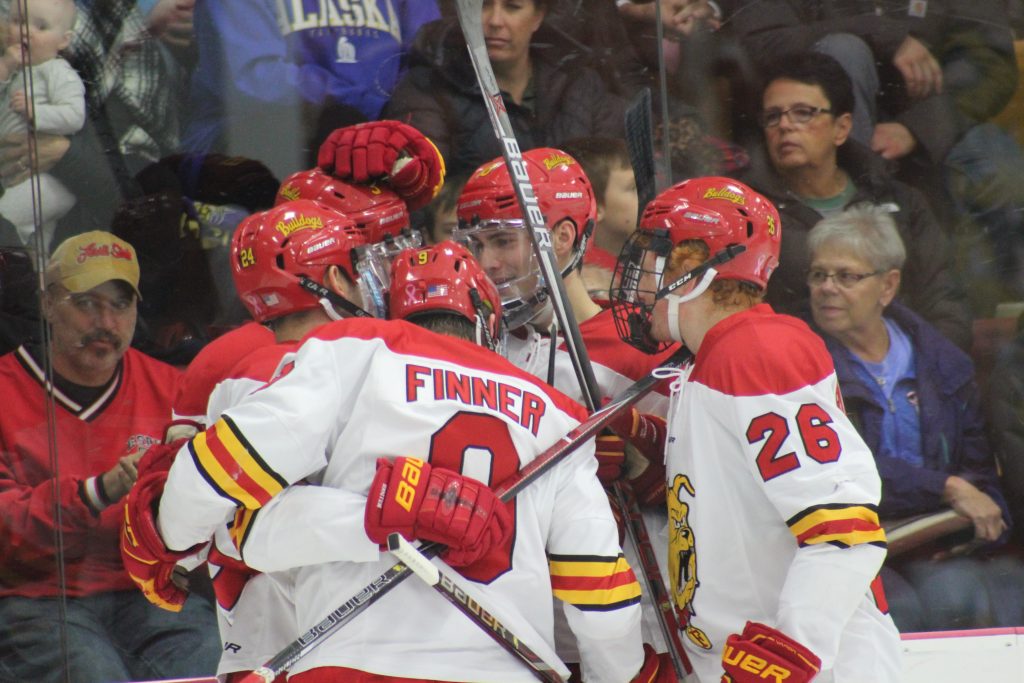 After splitting against the Chargers of Alabama-Huntsville last weekend, Ferris State is looking to gain some much needed points in the Western Collegiate Hockey Association (WCHA) standings this weekend with a possible six points up for grabs.
Ferris State comes into the weekend sitting in sixth place in the conference with a 3-4-1 record, good enough for ten points. They trail the Chargers by three points and Northern Michigan by five and could catch up to both teams this week. Michigan Tech sits in third place with 20 points but have benefited from six more games than the Bulldogs in conference play.
Those offensive struggles we talked about in the beginning of the season were shown the door last Friday night, Nov. 24 when the Bulldogs exploded for six straight to bury the Chargers. Mitch Maloney had a natural hat trick in the third and Jasen Fernsler added four points on the night.
The Bulldog offense now comes into the weekend at eighth in the conference, scoring 2.31 goals a game. Ferris has scored three goals or more now in four out of their last six games and four straight in WCHA play.
Alaska-Anchorage (1-7-4) comes into the weekend sitting in dead last in the WCHA with just 2.00 goals a game. The Seawolves sit just one point behind the Bulldogs in the WCHA standings with a 1-2-3 record and have played two less games so this weekend's games are critical for both teams.
The Seawolves are led offensively by senior forward Austin Azurdia who has six goals and five assists for 11 points in 12 games. Senior goaltender Olivier Mantha is the backbone to this Seawolves team, suiting up in all 12 of their games so far, and sporting a .916 save percentage with a 3.03 goals against average.
Mantha faces an average of 36.6 shots a game and is considered one of the top goalies in the nation. The Bulldogs went 2-1-1 last year against the Seawolves. Mantha gave up just seven goals in that timespan and carried a .952 save percentage. The Bulldogs will need to rattle his cage this weekend to get pucks past him.
The Bulldogs continue to be led by Maloney who has 12 goals and three assists for 15 points in six games. Junior forward Corey Mackin is also finding his groove, with four goals and nine assists for 13 points in 14 games.
Puck drop is set for 7:07 p.m. on Friday at Ewigleben Ice Arena where the two teams will play again Saturday at 7:37 p.m.