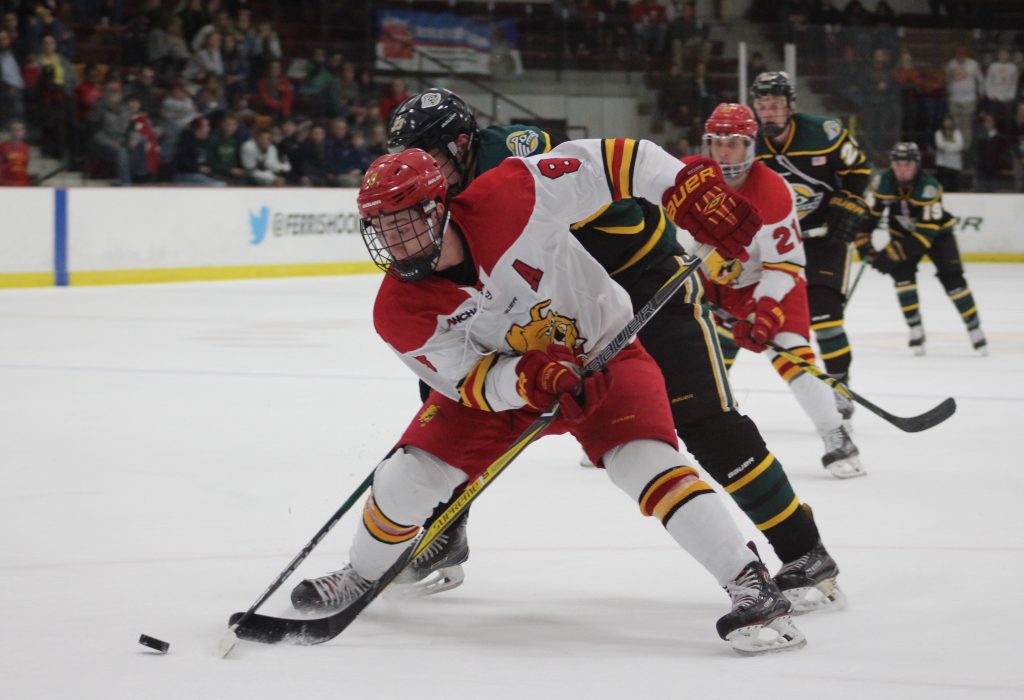 The Bulldogs picked up a crucial win in conference play Friday night, defeating Alaska Anchorage 2-0.
The concourse of Ewigleben Ice Arena was full of joy after the Bulldogs peppered 48 shots on net in a ferocious offensive attack against the Seawolves. The Seawolves trailed the Bulldogs by just a point in the Western Collegiate Hockey Association (WCHA) with a game in hand heading into the game so three points were important for the Bulldogs.
"I really liked the first two periods a lot. I thought we had a lot of pace to our game. We're trending in the right direction," head coach Bob Daniels said.
20 players dressed for the Seawolves in the loss Friday night but the only one noticeable for most of the game was senior goaltender Olivier Mantha. Mantha kept the Seawolves in the game until the final buzzer, stopping 46 of 48 shots but the two that got past him were enough to propel Ferris to their fourth conference win in the last five games.
The Bulldogs were finally able to beat Mantha when defenseman Jake Hetz lasered one from the point that floated by the glove of the Seawolves goaltender. It was Hetz first goal since Feb. 12, 2016 and just his fourth of his career and on one of the best goaltenders in all of college hockey.
Forward Trevor Recktenwald extended the Bulldog lead to 2-0 when he ripped one off a Seawolves defender's stick top shelf at 16:27 of the middle frame. The Bulldogs heavily outplayed Alaska Anchorage through the first two periods, outshooting them 38-12.
Sophomore goaltender Justin Kapelmaster answered the challenge of facing Mantha, stopping all 22 shots he faced on the night. Kapelmaster was able to stay focused a game where he didn't face many shots until the third period where the Seawolves almost doubled their shot total.
"I feel good in the net. Obviously Mantha, he played phenomenal. He's a great goaltender. It's always tough to start off when you don't have a lot of shots on net, I tried to stick with it and obviously the turnout was good," sophomore goaltender Justin Kapelmaster said.
The Bulldogs and Seawolves will be back at it Saturday night at Ewigleben for a rematch of Friday's game. Puck drop is set for 7:37 p.m.