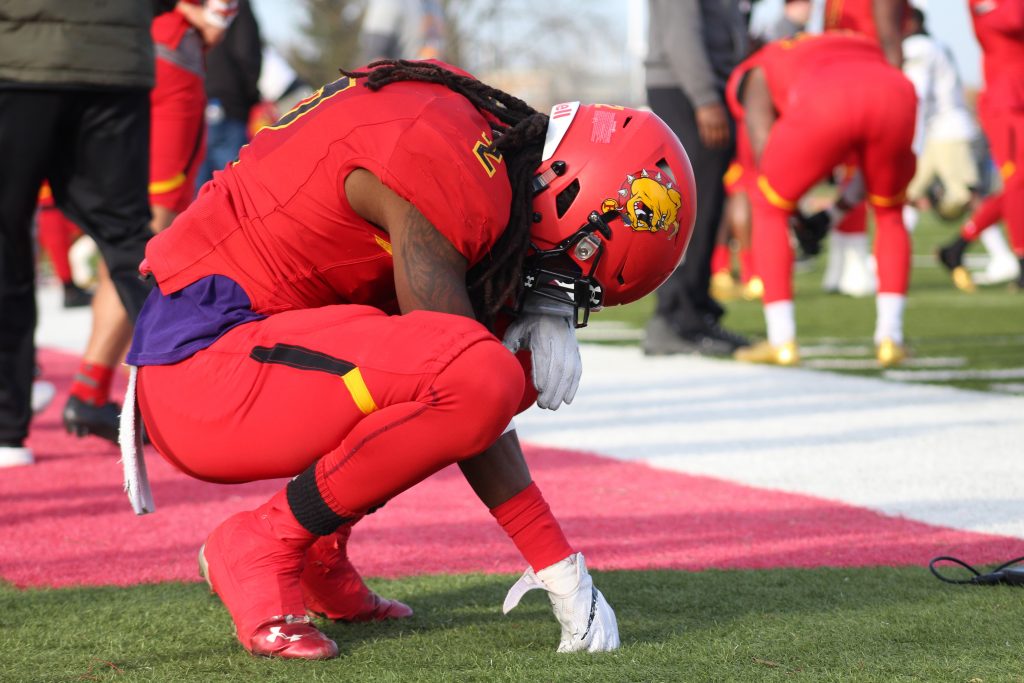 Click here for more photos from the game.
A swing of the leg. That's all it took for the Harding Bison to defeat Ferris football's hope of an NCAA championship.
As the Bison kicker walked on to the field, the memory of an earlier missed field goal fresh in his mind, fans everywhere were on the edge of their seat. The ball was snapped, the kick was up and good and time had run out. Harding had won 16-14.
Time really was the Bulldogs' worst enemy in Saturday, Dec. 2's NCAA Midwest Super Region 3 quarterfinal matchup, as the Bison controlled the clock for nearly the entire game, even rattling off a 10-minute drive in the first quarter.
"Harding deserved a victory," said head coach Tony Annese. "They out-coached me and their kids played really hard and so they move forward. That's the harsh reality of this game."
Despite the loss, Ferris was impressive on the defensive side of the ball. Whether it was clogging the run lanes or swatting away passes, the Bison offense had trouble moving the ball against the Dawgs.
Senior linebackers Nick Huckabay and Terrell Porter both had a great day. Huckabay recorded a team-high 20 tackles while Porter came in close behind with 18.
Junior defensive lineman Zach Sieler had 13 total tackles, but didn't record any sacks due in part that the Bison only attempted six passes the entire game, with all of them falling incomplete.
The offense for Ferris didn't look very sharp at all. The holes just weren't there in the run game, and Harding's deep ball coverage held up just enough to not allow many big play strikes.
"We overcame a lot of adversity," said sophomore Devontae Harrington. "[Harding] brought a lot of pressure, we just couldn't make the big plays."
Harrington was one of the lone bright spots on the Ferris offense Saturday. The sophomore found the end zone twice, once following a 57-yard run by Jahaan Brown in the first quarter and then once more on a 10-yard scamper to the outside.
The Bulldogs finish their season with an 11-2 overall record and face big questions in the offseason with several seniors graduating including star quarterback Reggie Bell and rumors revolving around Sieler departing for the National Football League (NFL).