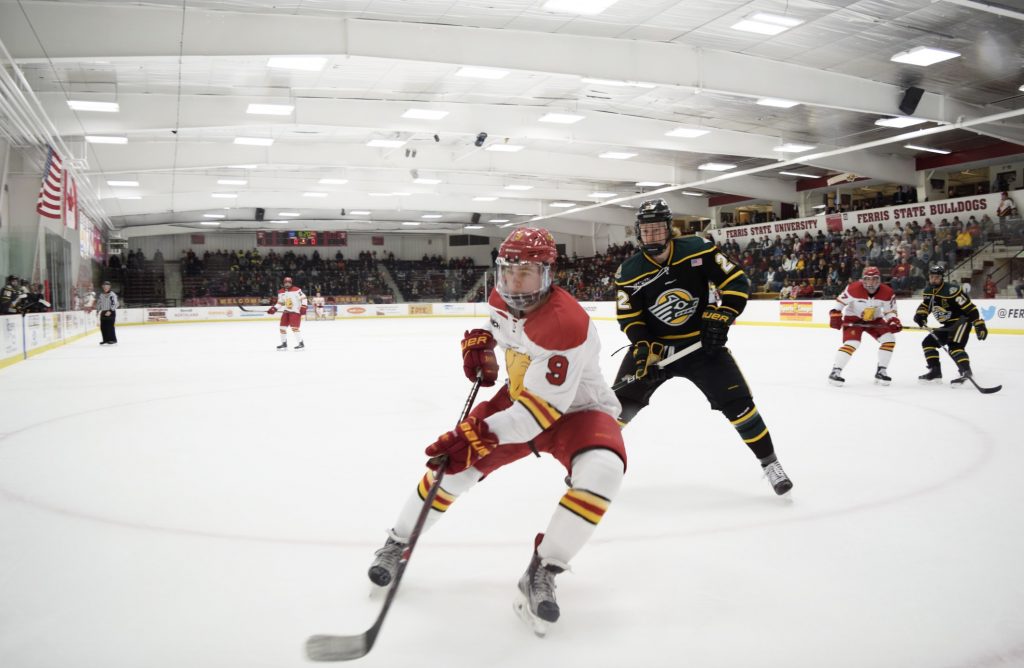 The Ferris hockey team completed their second sweep of the season in a dominant performance against the Seawolves of Alaska-Anchorage.
After taking down the Seawolves 2-0 the night before, the Bulldogs were confident they'd be bearing brooms after Saturday, Dec. 2's matchup.
The game was scoreless through most of the first period with both teams playing well. The Bulldogs were able to strike first however, as junior defenseman Ryker Killins found the net on a power play goal.
In the second period, it appeared the Bulldogs were ready to run away as Craig Pefley tickled the twine for his second goal of the season and Ferris' second power play goal of the evening.
The Seawolves however, were not ready to be put to rest quite yet as they scored two quick goals within 35 seconds of each other to even things up 2-2.
Play really heated up in the third period as both teams came out of the locker room with a win in sight.
Shots were traded, but it was the Bulldogs who were able to claim the advantage as Pefley found the net for his second goal of the night, putting the Dawgs ahead 3-2. Taylor Fernandez then sealed the win, scoring two goals within five minutes to bring the final score to 5-2 in favor of the Bulldogs.
Sophomore goalkeeper Justin Kapelmaster was in rare form in the victory, giving up every inch of his body to keep the Seawolves out of the net as much as possible. Kapelmaster recorded 29 saves on the night.
Ferris will head into a rough stretch of road games as they will be in the Upper Peninsula for two straight weekends. There won't be hockey in Ewigleben Ice Arena again until Friday, Jan. 6.
The Bulldogs will be back in action next Friday, Dec. 8 as they will head to Houghton, MI to take on the Huskies of Michigan Tech. Puck drop for that matchup is set for 7:07p.m.