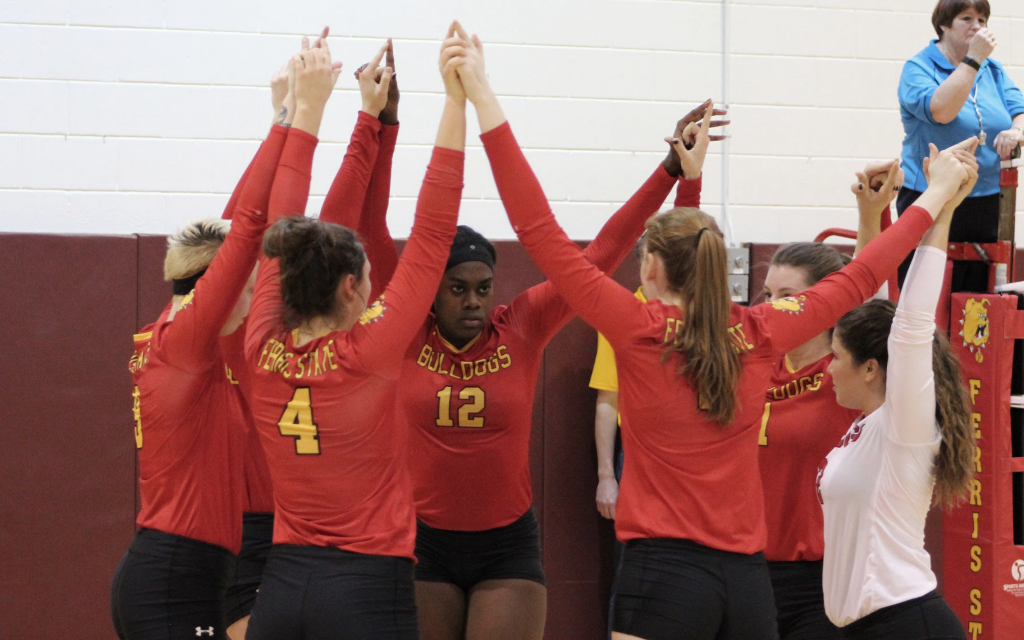 The Ferris volleyball season came to an end Friday, Dec. 1, as the Bulldogs pushed Lewis University to the edge during an epic matchup that lasted five sets.
The Bulldogs went into the postseason with high expectations after becoming the first team in Great Lakes Intercollegiate Athletic Conference (GLIAC) history to win four consecutive tournament titles. After defeating McKendree University 3-1 the night before, the Bulldogs couldn't quite pull out the upset against a strong Lewis team on their home court in Illinois.
"I saw two really good volleyball teams battling point for point and working hard. I think we saw for sure two of the top teams in the nation. It was a great match. It was something definitely to be proud of," Head coach Tia Brandel-Wilhelm said.
The two teams met earlier in the season when the Bulldogs traveled to Denver to play in the Colorado Premier Tournament. Lewis swept the Bulldogs 3-0, ending the trip on a sour note for Ferris.
The Bulldogs went on to win their next 18 out of 23 games, capturing regular season and post-season tournament GLIAC titles. Meanwhile, Lewis went into the match with an impressive 32-2 record, centered around a 12-game win streak.
"I think our level of play was a lot better. Last time we played them, we played a bunch of close sets but our hitting was not very strong. I thought we did a much better job of working the ball and taking advantages of the things that the situation gives us," Brandel-Wilhem said.
After losing a tightly contested first set, the Bulldogs were able to bounce back for two straight set wins, taking a 2-1 lead. Just 25 points shy of a win, Ferris was unable to put away the Flyers. Lewis dominated the fourth set, 25-10 and took the tie-breaking fifth set 15-11 to claim the victory.
The Bulldogs were led by sophomores Allyson Cappel and Courtney Brewer, who had 19 and 18 kills respectively. Cappel also added 20 digs while senior Lauren Reminga led the team with 34 digs.
Though the season is over, the Bulldogs proved they belonged after defeating regionally ranked No. 2 McKendree easily and taking No.1 Lewis to the very end in a closely contested battle.
"Every day we came into the gym and got a little better. Unfortunately, it fell just a little short but the things we did see were amazing," Brandel-Wilhelm said.
Click here for more coverage of the Ferris State volleyball team.