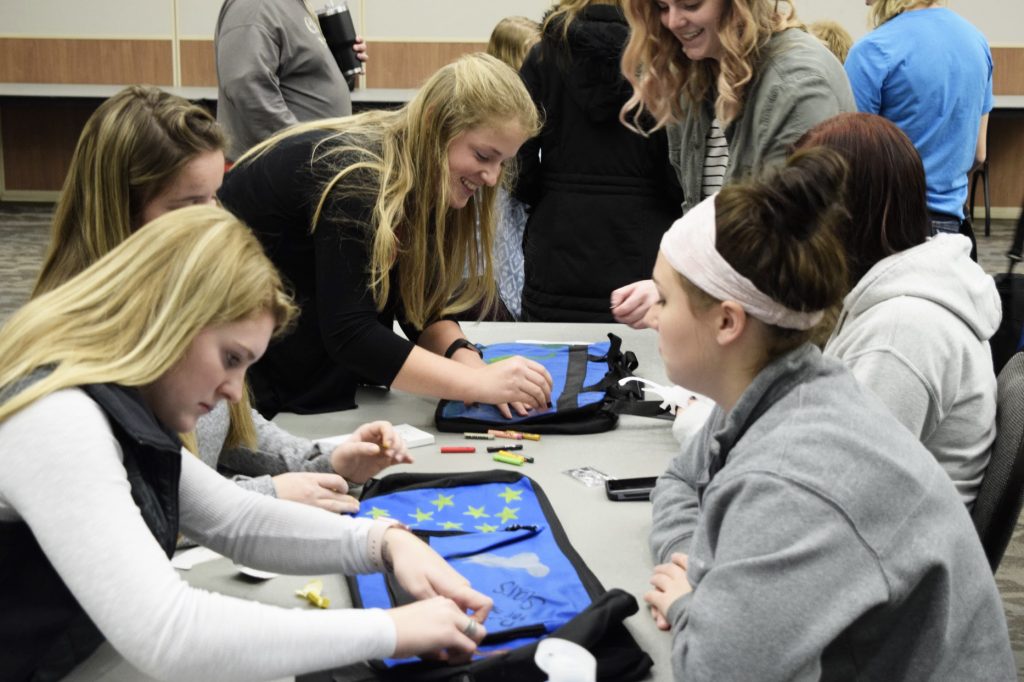 While some people think of the large red bag that Santa Claus carries on the back of his sleigh during the holiday season, there are some who see visions of trash bags instead. This is a feeling that hit close to home for some Ferris students.
Many children in the foster care system are forced to use trash bags to move their few belongings around. In hopes of creating some cheerful faces this holiday season, students were able to decorate suitcases for the event Sweet Cases, Wednesday, Nov. 29. These suitcases held a blanket, a teddy bear, a hygiene kit, a coloring book and crayons as well as any other items students wanted to include for their foster child. The cases were donated to the local Department of Human Services (DHS) and then distributed by case workers to local foster kids.
"I really appreciated when I got clothes donated to me because they are practical," Ferris social work sophomore Jordan Brumwell said.
When she entered the foster care system, moving around during the holidays was tough because for many kids, the holidays means being around family.
"We got a lot of donated stuff. People had fundraisers and some kids had Christmas sponsors who would buy them gifts. When I was 17, my DHS worker bought me things before college for Christmas such as a laptop," Brumwell said.
One of her favorite holiday memories in general was being able to see other kids genuinely happy at Whaley Children's Center around the holidays. This is where she lived for a period of time in her adolescent years.
"The holiday season has always been a rough time for me. In foster care, Christmas was often a time of sadness instead of joy and love. Most foster kids don't get to see their real family for the holidays and if they do its maybe for an hour or two in a supervised visitation room. Many foster kids, like myself, were also separated from their siblings, so being able to see them was something that rarely happened. The gifts were slim to none and to this day, I dread Christmas every year," Ferris public health junior Bryanna Harlan said.
She is a scholarship recipient from Together We Rise and she has been affiliated with the group since her junior year of high school. Harlan was sure that she could get people at Ferris to want to have a Sweet Cases program. This is the second year that the Ferris student government has been hosting the event.
"When she brought up the idea, we all thought it was a wonderful idea and jumped on board," Ferris senator for the college of business Maria Rogers said.
When Rogers came to Ferris, she knew she was going to become a part of a new community—not just the college but the Big Rapids community as well. Rogers is also the committee head for the Big Rapids Community Outreach Internal Committee, which serves as a bridge between the college and community.
"I heard about this event through Maria. She is in the same organization that I am—Zeta Tau Alpha. As a group, we donated money for three bags to be decorated and put together," Ferris social work senior Kirsten Lamb said.
Lamb works at Eagle Village and she has seen how kids come there with just a trash bag filled with their few belongings. Eagle Village is a residential housing place for high risk kids in the foster care system that is located in Hersey. She sees Sweet Cases as something to call their own and keep their possessions in and hopes that these Sweet Cases show kids that there really are people out there in the world that want to look out for them and that there is always hope.
Sweet Cases was hosted by the Student Government Association, Together We Rise and the Social Work Association.
Click here fore more from the Torch's Lifestyles section.