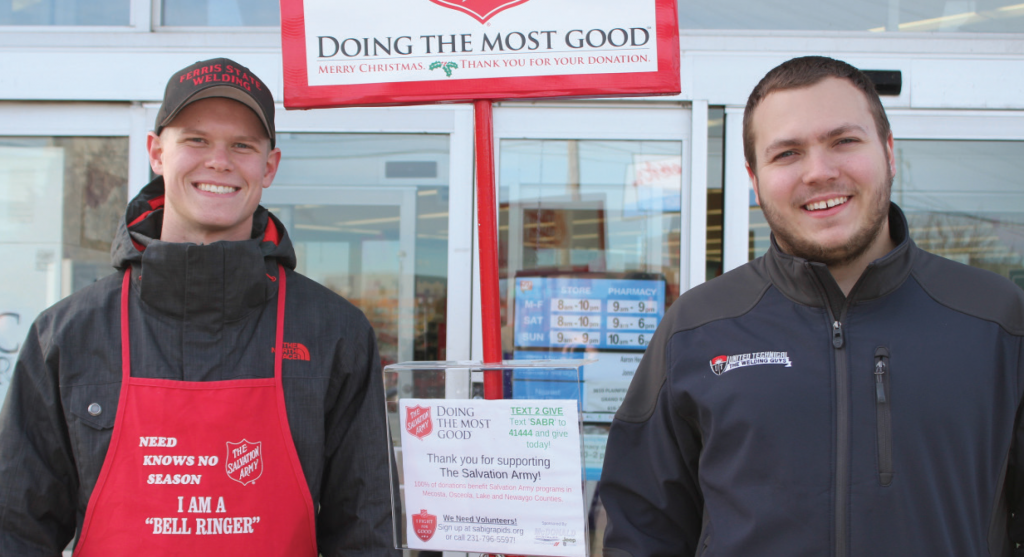 It's officially the season of giving and many Bulldogs are embracing the holiday spirit by volunteering in the community.
The Salvation Army offers consistent opportunities for students to give back to the community all year long and during the holiday season many students and student organizations choose to do so by volunteering for bell ringing.
"I think [bell ringing] is a really good way to get donations for the less fortunate and it's great to help the community like that," Ferris welding engineering senior and bell ringer Danny Williamson said.
This year, the Salvation Army in Big Rapids aspires to raise $120,000 to provide services for Mecosta, Osceola, Lake and Newaygo counties.
"If we don't meet our goal, what we have to do is go back to our programs and say 'we have to work with what we've got, what can we continue doing?' Maybe that means we have to close a community center for a certain amount of days in order to continue doing everything at least a little bit or if it's bad enough we may have to eliminate a program," Development Director of the Big Rapids Salvation Army Chris Vallette said.
The funds that bell ringers raise through kettle donations are used for a wide variety of services including a baby pantry, after-school community center, a free music program teaching children how to play instruments, the Angel Tree program and heat and utility assistance.
"I love doing this. It's great to give back to this community," Ferris welding engineering junior and bell ringer Doug Bolinger said. "The Salvation Army is able to give to so many communities in the area and it's nice to be able to help them give back."
For those who don't want to stand outside to do bell ringing, the Salvation Army also offers other opportunities to volunteer, which include teaching children how to play instruments, tutoring, helping with arts and crafts and participating in the Angel Tree program, which provides Christmas gifts to children.
For the students that have already been giving their time, it has not gone unnoticed.
"It's absolutely awesome the relationship we've been able to continue and even develop further with Ferris State faculty and students," Salvation Army envoy Ed Hoskins said. "Ferris is so incredible in the way the promote volunteerism amongst their students and that is very much appreciated."
Click here for more from the Torch's News section.