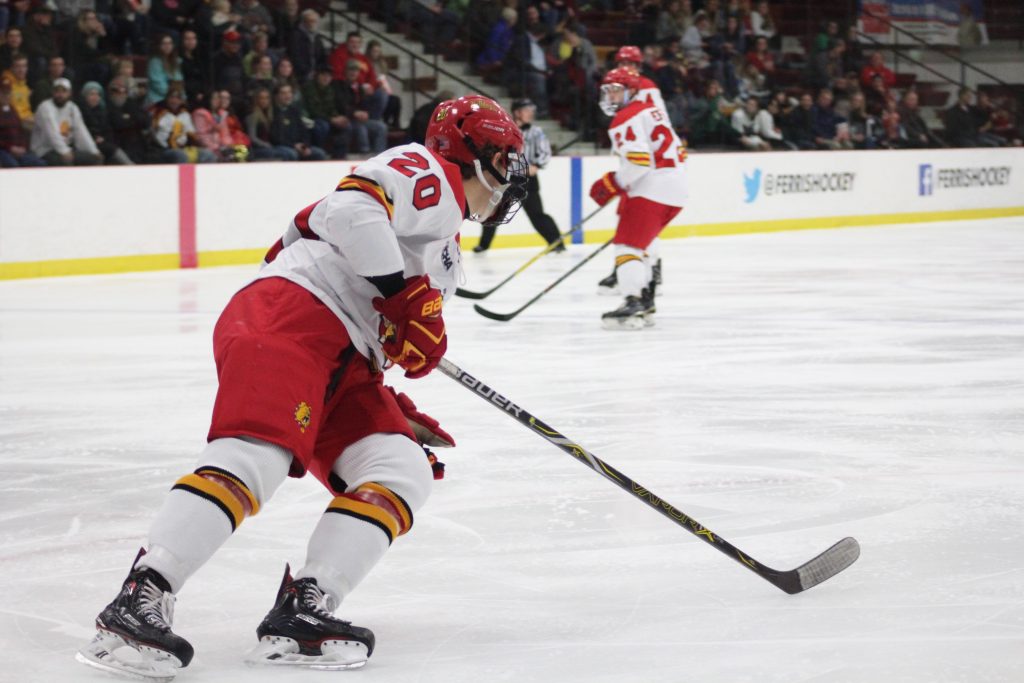 Winners of five of their last six conference games, the Bulldogs have arrived in the snow palace of Houghton for a weekend series against Michigan Tech.
After starting just 0-3-1 in conference play, the Ferris State Bulldogs have put together three impressive series. The Bulldogs were able to sweep both Alaska and Alaska Anchorage at home while splitting a weekend on the road in Alabama against the Chargers of Alabama-Huntsville.
This weekend's games have huge implications on the Western Collegiate Hockey Association (WCHA) standings. The Huskies come into the weekend ranked third in the conference behind a 5-5-4 record, good enough for 20 points. With four games in hand, the Bulldogs sit just four points behind with 16 thanks to a 5-4-1 record that has them sixth in the conference.
If the Bulldogs were to pull of a sweep of the Huskies in regulation they would jump to 22 points on the year and move at least one spot up the ladder. Northern Michigan (6-4-0) and Alabama Huntsville (5-4-1) sit in fourth and fifth respectively.
Northern Michigan is off for a weekend at Bemidji State while the Chargers hit the road to play the WCHA leading Bowling Green State Falcons. It is likely that one of these teams could slip up this weekend so a large opportunity awaits the Bulldogs.
Sophomore Gavin Gould (6-6-12) is tied for team lead with junior Jake Lucchini (3-9-12) of the Huskies. Gould is also tied for team lead in goals with junior Jake Jackson and senior Joel L'Esperance.
After Mel Pearson returned to his alma mater to take over the Head Coaching duties for legendary head coach Red Berenson at the University of Michigan in the off-season, Joe Shawhan was named the new head coach of the Huskies. Shawhan was an assistant coach the past three seasons with the club.
Junior Craig Pefley and Sophomore Justin Kapelmaster are coming off of WHCA Player of the Week honors after their stellar performances last weekend against Alaska Anchorage. Pefley netted two goals and added a pair of assists for four points on the weekend while Kapelmaster backstopped the Bulldogs to a pair of wins while boasting 1.00 goals against average and a .961 save percentage including a shutout on Friday (Dec. 1) night.
The Bulldogs have looked for either Kapelmaster or junior Darren Smith to claim the starting role while splitting time earlier in the year and Kapelmaster may have the opportunity this weekend if he can repeat the performance he had last weekend.
Both Friday and Saturday's games at MacInnes Student Ice Arena are scheduled for 7:07 p.m. puck drops.
Check out the Torch staff's predictions for the outcome of this weekend series below!
Jacob Carlson (Sports Reporter): Friday, Dec. 8, 3-2 Ferris State | Saturday, Dec. 9, 4-2 Michigan Tech
Brendan Samuels (Sports Editor): Friday, Dec. 8, 3-2 Michigan Tech | Saturday, Dec. 9, 2-0 Ferris State
Beau Jensen: (Sports Reporter): Friday, Dec. 8, 2-0 Michigan Tech | Saturday, Dec. 9, 3-2 Michigan Tech
Keith Salowich: (Website Supervisor): Friday, Dec. 8, 4-1 Michigan Tech | Saturday, Dec. 9, 5-3 Ferris State