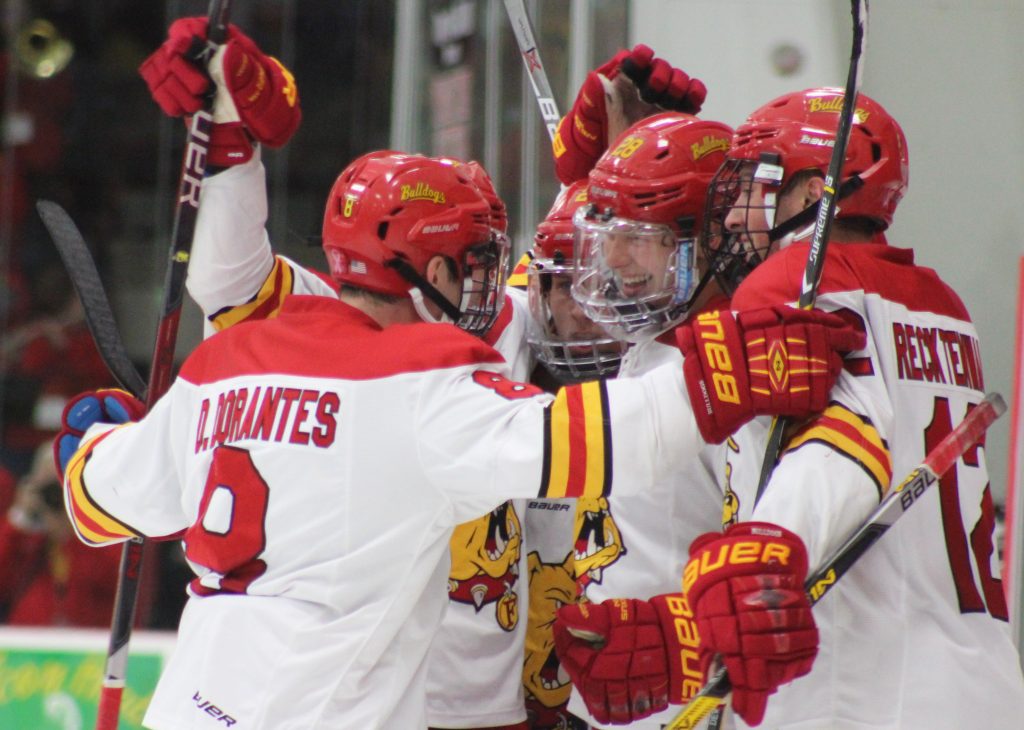 Michigan's Upper Peninsula is treating Ferris hockey team well.
The Bulldogs traveled to Houghton, Mich. to take on their Western Collegiate Hockey Association (WCHA) opponents in the Michigan Tech Huskies Friday, Dec. 8 and came away with the 4-3 victory.
The defenses for both teams were on display in the first period, as no goals were scored until the Huskies' Jake Jackson put them on the board with under two minutes remaining.
Second period play was dominated by Ferris, as the Dawgs scored three unanswered goals. Senior Drew Dorantes, freshman Coale Norris and sophomore Craig Pefley all found the net to put the Bulldogs up 3-1 heading into the final period.
Michigan Tech. mounted a fierce comeback in the third period, answering back with two goals of their own to even things up at three apiece. The Bulldogs were able to drive the dagger into the Huskies however, as Dorantes found the net on the power play to score his second goal of the night and put Ferris on top 4-3.
Pefley continues his outstanding performance over the past week, as Saturday's goal marked his third in the last two games.
With the victory, the Bulldogs have now won six of their last seven games against WCHA opponents. Ferris currently stands at fifth in the WCHA standings with an overall record of 9-9-1. With a weekend sweep of the Huskies, the Dawgs could possibly jump to the third spot.
Ferris will remain up North for the next two weeks as they prepare to take on Northern Michigan following their bout with the Huskies. Fans will not see their hockey team return to Ewigleben Ice Arena until Jan. 6.
The Dawgs will look to complete their third sweep of the season when they resume action against Michigan Tech. Saturday, Dec. 9 at 7:07p.m. Fans can watch the Bulldogs on WCHA.TV.