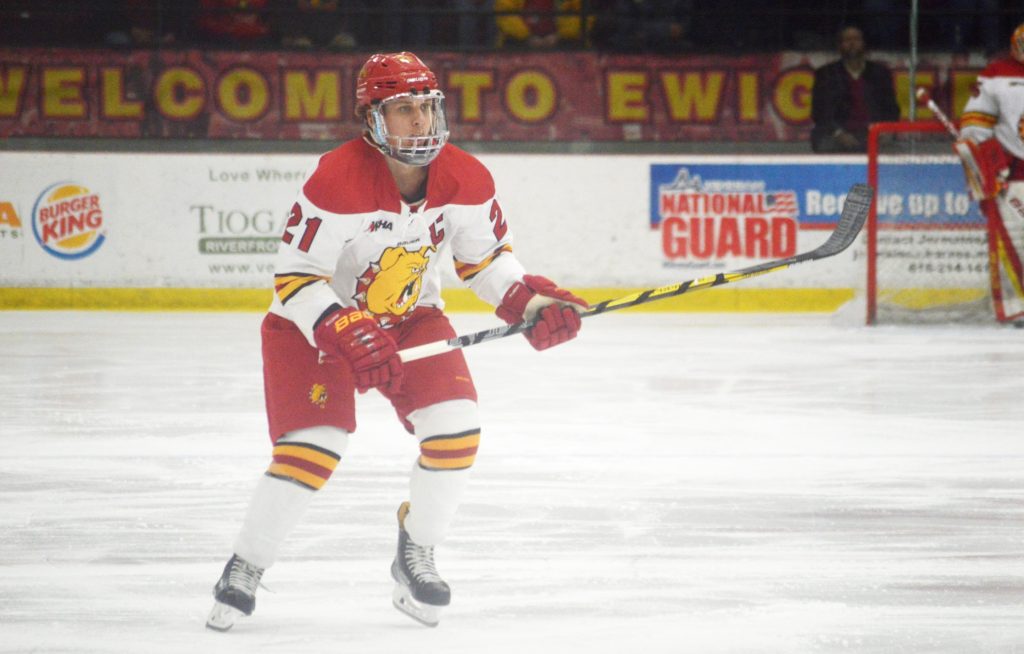 It simply was not a good night for the Bulldog hockey team.
When the Bulldogs hit the ice for their second matchup with the Michigan Tech Huskies Saturday, Dec. 9, they were high off a victory the night prior. The sweep wasn't in the cards for Ferris however, as they came away with a 5-1 loss.
It appeared the Dawgs were in store for another great offensive showing when sophomore Jasen Fernsler netted a beautiful shorthanded goal to put his team up 1-0 late in the first period. The Ferris lead would not last long however, as the Huskies answered back quickly to knot things up at 1-1.
The second period brought a load of dismay for the Bulldogs, as Michigan Tech. scored three unanswered goals, including one on the power play, to give them a 4-1 lead.
Ferris looked to mount a comeback in the third period, but could not get anything going offensively. The Huskies however, added to their lead with one final goal to bring the final score to 5-1.
Sophomore goalkeeper Justin Kapelmaster had a rough go of things as he allowed four goals through two periods and was benched in favor of senior Darren Smith. Smith went on to allow one goal and record eight saves.
The loss to the Huskies snapped a three-game win streak in the Western Collegiate Hockey Association (WCHA) for the Bulldogs. Ferris now stands at 9-10-1 overall this season.
The Dawgs will need to rest up this coming week as they continue play in the Upper Peninsula. Ferris will be back in action when they take on Northern Michigan University Friday, Dec. 15 at 7:00p.m.