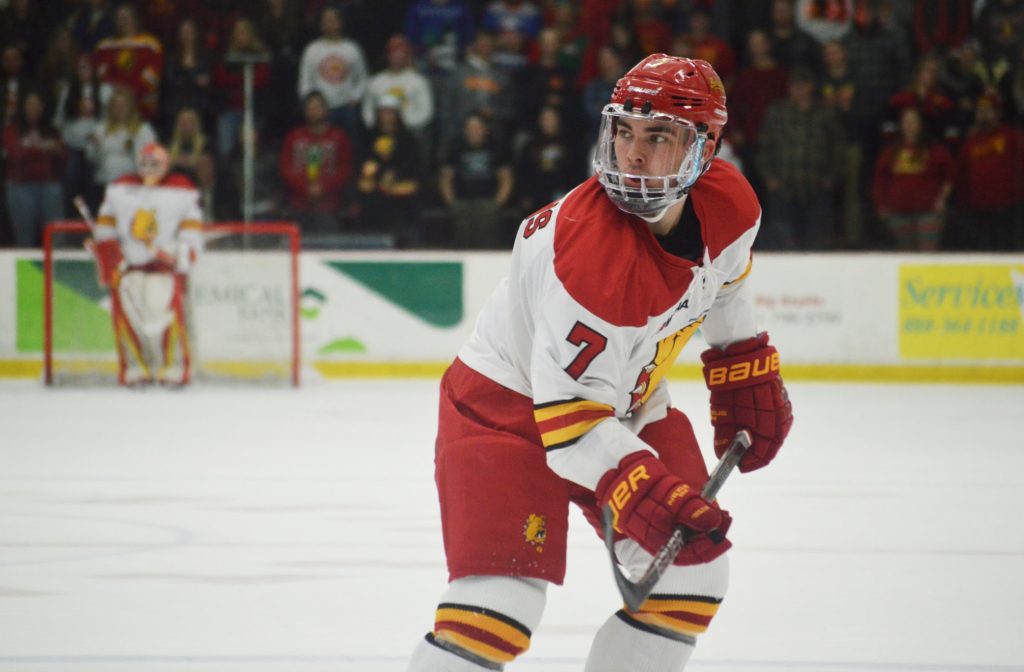 The Bulldogs started the gift giving season off a little earlier than normal by donating a conference victory and three points to Northern Michigan after falling to the Wildcats 6-1 Friday night.
The Bulldogs were extra giving in the final 40 minutes, surrendering five straight goals after Andrew Dorantes was able to make it a 2-1 game a few minutes into the second period. The Bulldogs were unable to capitalize on the few chances the Wildcat defense gave them and were rather generous in their own end against the Northern attack.
Sophomore goaltender Justin Kapelmaster may have been mistaken for Santa Claus while wearing the road reds, opening up for three goals on just 13 shots before being pulled half way through the game. Junior Darren Smith came in to relieve Kapelmaster, stopping 21 of the 24 shots he faced.
The Bulldogs hand-wrapped three Northern Michigan powerplay goals, showing glimpses of the struggling penalty kill we saw at the beginning of the season.
Senior Robbie Payne opened the scoring for the Wildcats just under six minutes into the first period. Northern Michigan took the 1-0 lead into intermission before starting the second off with a powerplay goal from Adam Rockwood just 55 seconds into the period.
After cutting the deficit in half, the Bulldogs cracked under the Northern Michigan attack. The Wildcats took advantage while taking control of the game. A 4-1 game heading into the third period, Northern Michigan added on two insurance goals to nail the coffin shut and lower it into the ground.
Northern Michigan goaltender Atte Tolvanen stopped 14 shots in the victory. After battling injury, Tolvanen made his way back into the lineup for the Wildcats, a team significantly better when he's in the net.
The Bulldogs look to bounce back in a rematch with the Wildcats Saturday night at Berry Events Center. Puck drop is set for 7 p.m.