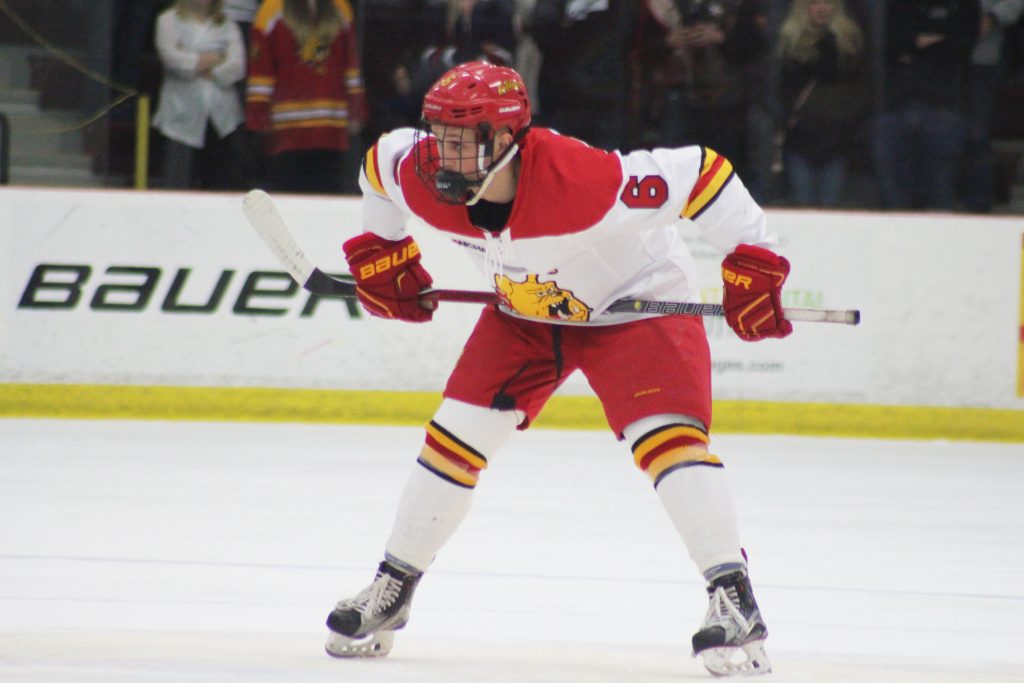 The Ferris State hockey team was on the wrong side of the broom Saturday, Dec. 16 as they fell 4-2 to Northern Michigan University (NMU) in Marquette.
The Bulldogs were hoping for a strong performance after a devastating 6-1 loss the night prior, but the Wildcats caught fire once again.
The scoreboard had two big zeroes on it for a majority of the first period as both teams traded shots, but NMU broke the silence late in the first to end the period with a 1-0 lead.
The second period is where the Wildcats really broke free, scoring two goals and keeping Ferris off the board to open a 3-0 advantage.
The Dawgs were able to inch a bit closer in the final period as seniors Drew Dorantes and Corey Mackin each netted a goal. NMU's Darien Craighead also found the net in the final period however, bringing the final score to 4-2.
Craighead dominated Ferris' defense all night and it showed as he completed the hat-trick.
The loss does not help the Bulldogs in the Western Collegiate Hockey Association (WCHA) standings, as the team has now dropped three of their last four conference games.
Following the back-to-back defeats, Ferris falls to 9-12-1 on the season overall, with a 6-7-1 record in the WCHA. That mark pushes Ferris into the fifth spot in the WCHA.
Ferris will have some time off to figure things out. The Bulldogs will be back in action when they take on Bowling Green State University at 5:07p.m. Saturday, Jan. 6 at Ewigleben Ice Arena in Big Rapids, MI.