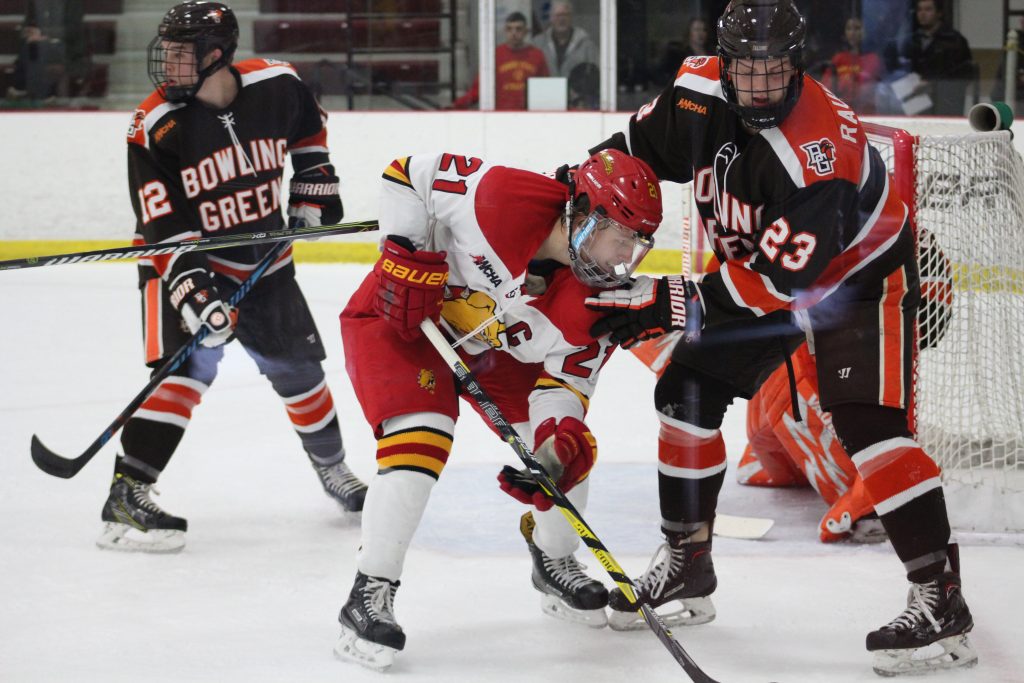 Things are looking a little rough right now for the Bulldogs who dropped their fifth straight game Sunday afternoon, 3-0 against the Bowling Green State Falcons.
The Bulldogs have fallen to eighth in the conference after getting swept for the second straight weekend of conference play and sit just seven points ahead of Lake Superior State for that final playoff spot. In a conference where a team can earn up to six points any weekend, that isn't as big of a cushion as you'd like.
The Bulldogs were looking to respond after a heartbreaking 6-3 loss last night and the effort was there in the first period as Ferris outshot the Falcons 12-7 in the opening frame. Unfortunately, things weren't as smooth in the second period for the Bulldogs as Bowling Green took a 2-0 lead into the final period of play.
Senior forward Mitch McLain deflected in a puck past Ferris goaltender Darren Smith six minutes into the second period and sophomore forward Lukas Craggs doubled the lead with just 1:51 left in the frame. Craggs goal came just seconds into a powerplay gifted to the Falcons after Ferris captain Corey Mackin was called on a controversial play.
Fans in attendance certainly weren't happy with the call and neither was the Ferris State bench but that is still no excuse for the penalty kill effort that ensued.
The Bulldogs went 0-for-5 on the powerplay in the second period as well as they weren't able to get any momentum going on the man-advantage. Numerous times it appeared that Bowling Green was actually getting the better-quality chances while the Bulldogs were on the powerplay.
The loss puts Ferris at 9-14-1 (6-9-1 in WCHA) on the year, five games below five hundred. The losing streak has come at the wrong time for a team looking to crawl out of the mediocracy that's defined their season so far.
The Bulldogs travel to Lake Superior State for games next Friday and Saturday (Jan. 12 and 13) where they will look to get back on track. Meanwhile, Lake Superior State could close that points gap to just one if they can grab two regulation wins against the Bulldogs.
The race for home-ice advantage in the playoffs has turned into a race for a spot in the playoffs. A race the Bulldogs certainly did not want to be a part of.
Click here for more coverage of the Ferris hockey team.