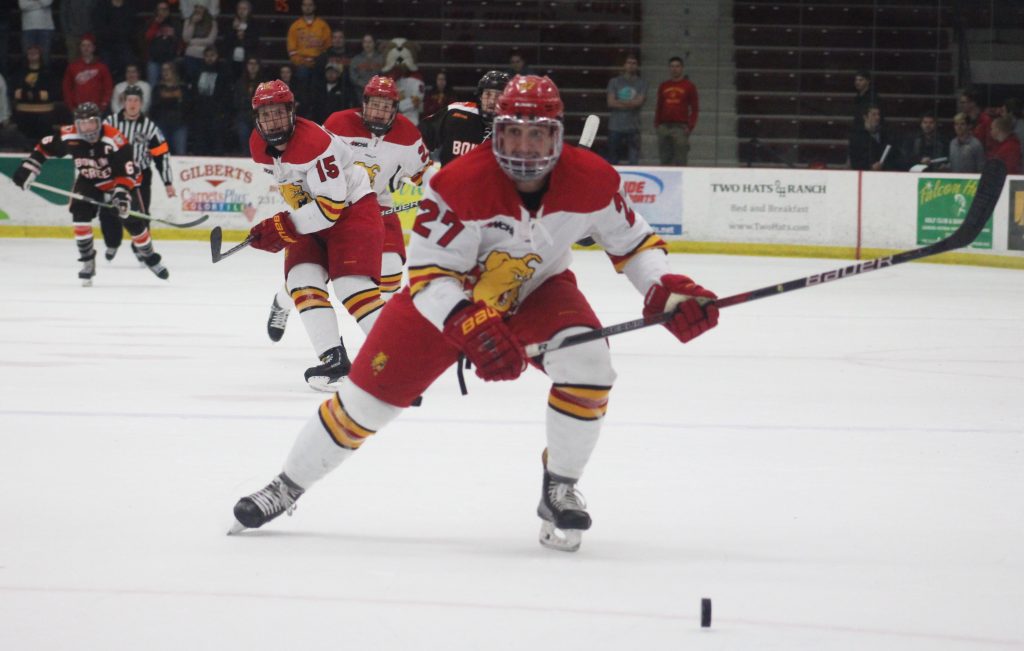 As Michigan drivers have been slipping and sliding on the icy roads, Bulldog hockey has been excited to step back onto the ice of Ewigleben for the second half of a season that has a lot left for the taking.
The Bulldogs have found themselves not performing as well as they have in previous seasons and are looking to turn the tide sooner than later.
Ferris has shown what the team can do when at full potential, allowing nothing to hold it back from weekend sweeps nor the postseason success that head coach Bob Daniels' teams have become known for in recent years. Daniels knows that it's time for the team to start reaching that potential.
"We've got an uphill climb but I'm really excited about this climb. They want to win as bad as we do, so it's a partnership. We've all got to give a bit more," Daniels said.
The Bulldogs looked like they were hitting that potential in early November when their first win at Yost Ice Arena since 2006 propelled the team to six wins out of their next seven WCHA games. Sweeps against both teams from Alaska and splits on the road against Alabama-Huntsville and Michigan Tech put the team closer to where it wanted to be.
Unfortunately, the Bulldogs were not ready for a hard-hit of being swept twice, one from the strong Northern Michigan team in Marquette to wrap up the year and the other from the Bowling Green State Falcons who did the same thing to welcome back the Bulldogs after the winter break.
The Bulldogs now sit in eighth place in the WCHA standings and are in desperate need of wins to try to gain ground on teams ahead of them like Northern and Bowling Green and to have a chance at a playoff spot. For a team not short on hunger right now, it's only fitting that one of the best at delivering a spark enters back into the lineup, as forward Andrew Mayer has returned from a hernia injury.
"I'm so excited to get back into the lineup. We're ready to bounce back because conference play means a lot to us. I know getting good body checks in gets my team going and gets confidence and momentum on our side," Mayer said.
Mayer, who missed 10 games, is looking to provide the spark that the Bulldogs need and there is probably nobody better on the team to do it. His tenacious approach to the game and relentless aggression has earned him the nickname "Slayer."
Though Mayer may not be the guy to get the goals coming for the Bulldogs, as he has just one point in 12 games this season, Mayer has certainly earned the nickname given to him on the ice, utilizing all of his 6-foot, 225-pound frame to put fear into opponents. Hopefully it's enough as the Bulldogs welcome some tough competition in the month of January.
Ferris hits the road Jan. 12 and 13 to face off against Lake Superior State before finishing off the month with a pair of series against Bemidji State and Michigan Tech at home.
Click here for more coverage of the Ferris State hockey team.