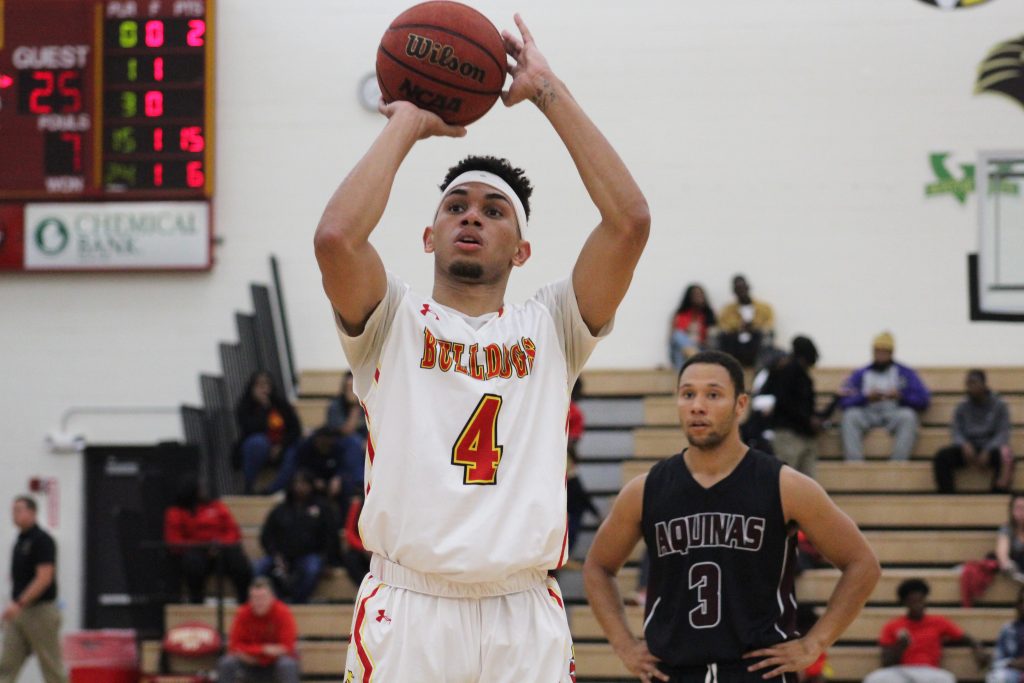 In an era where Ferris athletics is achieving success on all levels of the spectrum, men's basketball has continued to lead the charge.
The Bulldogs are now 16-1 after their win against Davenport Saturday, Jan. 6, and have won four straight games after their first loss of the season on the road against a tough Lake Superior State team, who sat atop the Great Lakes Intercollegiate Athletic Conference (GLIAC) standings as of Dec. 16.
Though the Bulldogs have grown accustomed to this kind of success, it is safe to say that their 12-0 start to the season, the best in school history, will live on forever in the minds of current players and coaches.
"It was pretty great, we had high expectations for ourselves at the beginning of the year and so far, we are doing a good job living up to them," senior Noah King sad.
What's more impressive than their record is the underlying numbers behind it. Out of 16 of their wins, 12 of them have been by more than double digits, five of them by more than 20 and two games of more than 30, including a 100-51 victory over Ohio Valley before Thanksgiving.
The team is rolling and with just over 10 games left in the regular season, it doesn't appear that the Bulldogs have any thoughts of slowing down. Head Coach Andy Bronkema and members of the team know that it's not time to let go of the belief that they are ready to win a national championship.
"There's certain things that you have to do to have a chance and all you're going to get is a chance," Bronkema said. "There are several teams that can win our league. There's several teams that can win our region and there are several teams that can win a national championship. Do I think we're one of them? Yeah but does the neighboring team think they're one of them? Yeah. We got to just keep believing that this is the year. Our team has that belief and it should."
The team has gotten solid numbers from many players including King, who sits third in team scoring behind senior Drew Cushingberry and junior Zach Hankins, with 11.4 points. King is part of a starting five that has seen starts in every single game from each of the five members.
The team's ability to rotate players in and out throughout games has been one of its significant attributes during the spectacular start to the season and any thoughts on chemistry issues can be thrown out the door. Now it's just a matter of continuing to move forward as a group.
"There's no doubt that we have the talent but we have to make sure we stay locked in everyday and continue to get better as a group each and every day," King said.
The best part about being three-time defending GLIAC tournament champions may just be the competition that it brings from opponents eagerly trying to achieve the success that the Bulldogs are known for. In a league as strong as the GLIAC, the games tend to get more exciting as the impact of the games grow larger and larger.
"It's important and it gets you ready but it's just more fun. There are a lot of great teams in this league. Good coaches and good players, so it's fun. That's what competitive athletics are about. It shouldn't be any other way," Bronkema said.
The Bulldogs will have plenty of healthy competition coming their way in the final month and a half of the regular season as the team hosts a strong Northern Michigan team that sits right ahead of Ferris in the GLIAC standings while also getting a rematch with Lake Superior on home court in the month of January.
One thing is for sure, this team is for real—ask Tom Izzo. The Bulldogs are hungry and that NCAA tournament leash that's caught up with them the last few years is very close to coming loose.
Click here for more coverage of Ferris State basketball.