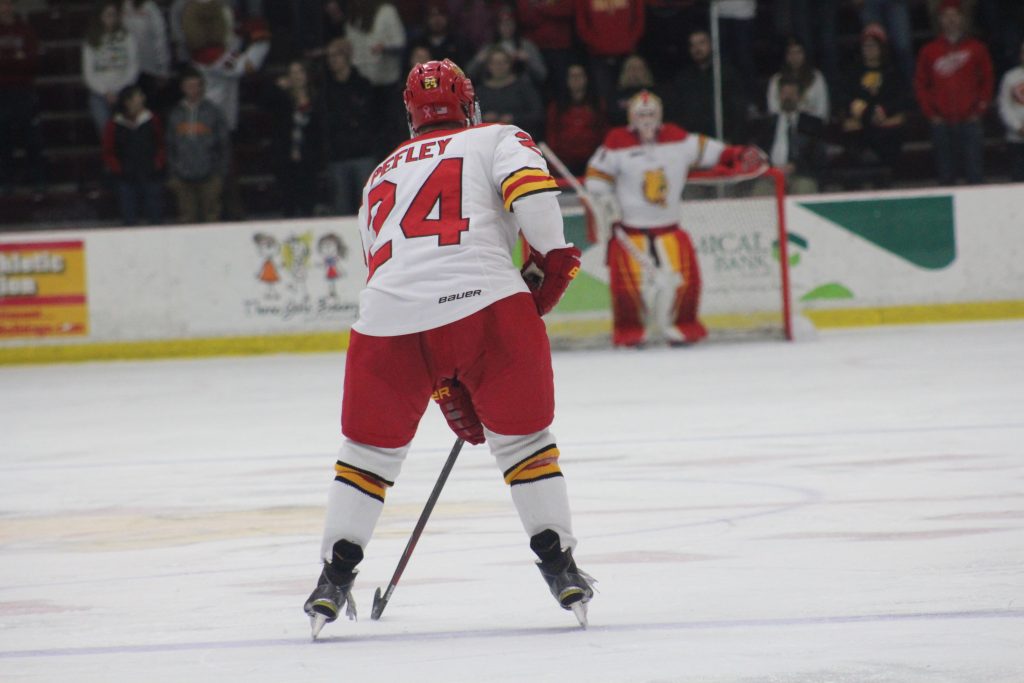 The world ain't all sunshine and rainbows.
The same could be said about college hockey. The Bulldogs (9-14-1) have now lost five straight games after hitting the .500-mark back on Dec. 8. All it took was a month for a team on a roll, battling for one of the top four spots in the Western Collegiate Hockey Association (WCHA) to fall. The Bulldogs' conference record has dropped to 6-9-1 and they currently sit in eighth place in the conference, home to the last available playoff spot.
So let's talk.
Is this team closer to making home in the basement of one of the worst conferences in college hockey this season, or are they finally going to get things figured out and start climbing the standings like we all know they are capable of? Well, we are going to find out this weekend.
Ferris State is currently seven points ahead of ninth place Lake Superior State. The bulldogs make the trip up to Sault St. Marie this weekend for a battle with the Lakers and in a conference where a team can earn six points on any given weekend, the Lakers are just a weekend sweep away from being oh so close to unseating the Bulldogs in that last playoff spot.
Something more unsettling? Tenth place Alaska-Anchorage, a team the Bulldogs ran into the ground back in early December sits at just 1-10-3 in the WCHA, but with two games in hand on the Bulldogs, they sit just 10 points back. If the Sea Wolves use those two games in hand and pull out a miracle sweep likely behind the brilliant goaltending of Olivier Mantha they would only be four points back.
Now do I think the Sea wolves will pass the Bulldogs this season? No, they're awful. But the fact that this team is giving them the chance certainly doesn't look good on their part.
This weekend's series with the Lakers will make or break the Bulldogs season. Not saying they can't make the playoffs if they were to fall flat on their face Friday and Saturday night, but any hope of this team climbing back into the conversation would fade.
The Lakers offense looks dim, scoring just 2.08 goals a game. They are led by senior forward J.T. Henke who has seven goals and 16 assists for 23 points in 24 games, but they only have one double digit goal scorer, sophomore forward Max Humitz who has ten goals and seven assists for 17 points in as many games.
Lake Superior State's defense is even worse. Sitting dead last in the conference, the Lakers allow 3.71 goals a game. Their goaltending has been bad, but their defense doesn't do much to help. If you go onto the WCHA official website you can find plenty of top plays this year that have come against a very flat-footed Lake Superior State defense.
The Bulldogs meanwhile will look to play a 60-minute game twice this weekend. So far, this year it doesn't seem like Ferris has been able to do that all that often and when one side of the game is clicking, the other usually isn't. They will need to make sure everything is clicking this weekend to ensure a happy bus ride home. After all, they are also a good weekend away from climbing right back on up. Make or break.
The Bulldogs and Lakers are set to battle both Friday and Saturday night at Taffy Abel Arena in Sault St. Marie. Both games are slated for a 7:07 p.m. puck drop.