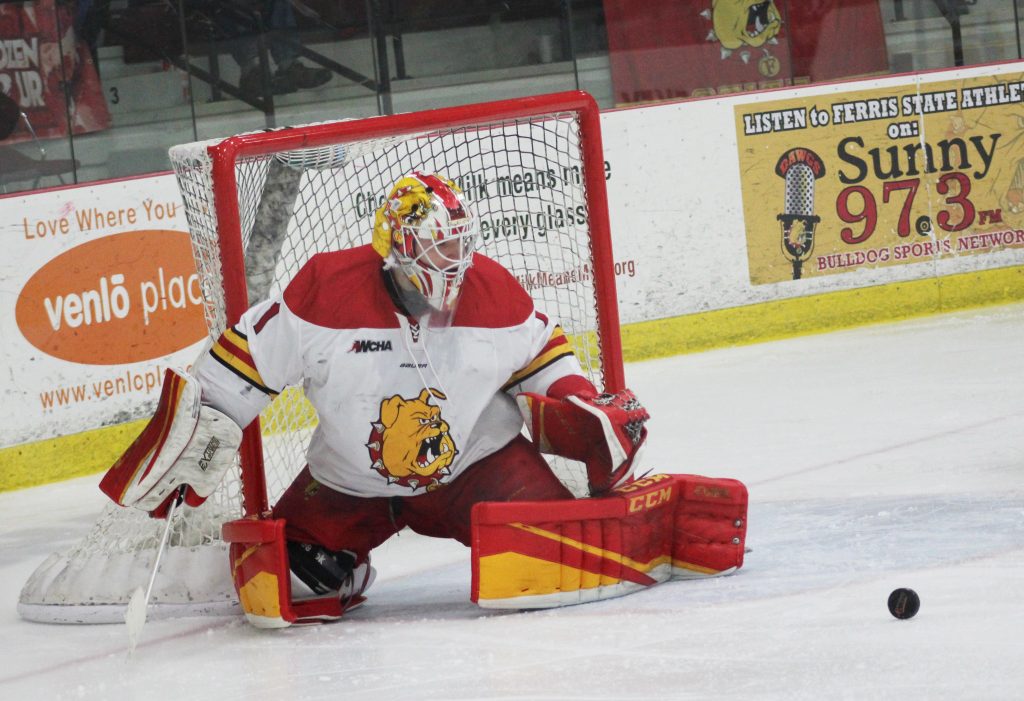 The Bulldogs put an end to their five-game losing streak Friday night with a 4-0 win on the road against Lake Superior State.
Ferris had lost five straight games, all coming in Western Collegiate Hockey Association (WCHA) play, dating back to early December. The last win for the Bulldogs was a 4-3 victory against Michigan Tech on the road all the way back on Dec. 8.
Ferris junior goaltender Darren Smith stopped all 27 of the Lake Superior State shots he faced on the night, earning his first shutout of the season. Smith's performance was especially noted on the penalty kill, where the Bulldogs have been looking for consistent goaltending for a while.
In a relatively even first period, the Bulldogs got on the board when Marshall Moise was able to connect with freshman Coale Norris for Norris' fifth goal of the season to give the Bulldogs a 1-0 lead.
The Bulldogs jumped out to a strong second period, scoring two goals in the first 3:08 of the period. The goals came from forward Corey Mackin and defenseman Nate Kallen and the Lakers decided to replace Mareks Mitens in net with backup Nick Kossof.
Players pensions were about to be mailed out by the time the second period was over as lengthy delays caused an elongated middle frame, but the Bulldogs kept the momentum and the 3-0 lead heading into the final 20 minutes.
Defenseman Ryker Killins returned with some of his magic on the powerplay at 8:24 of the third period to extend the Bulldogs lead to four while putting away the Lakers for good. Smith was able to shut the door the rest of the way to secure the shutout.
The Bulldogs must be happy with the full 60-minute effort from a team that has struggled to put together a full game in over a month. Now that the five-game losing streak is over, Ferris will look to build off this win and get a streak going in the right direction.
The Bulldogs and Lakers are set for a rematch Saturday night at Taffy Abel Arena at 7:07 p.m.