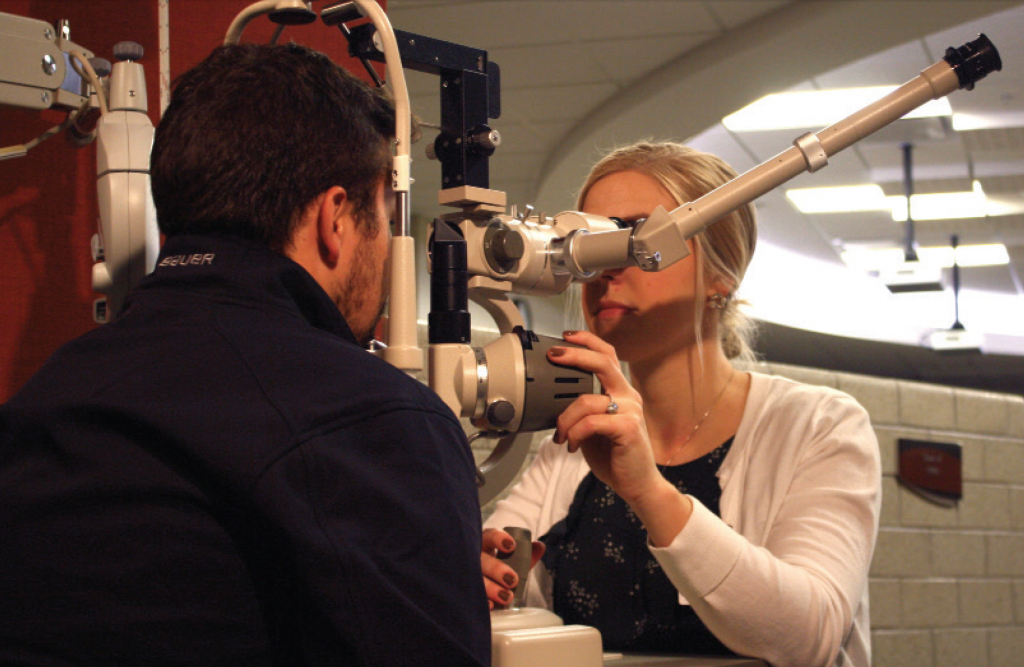 Eight years of schooling may seem like too much for most Ferris students but for optometry students, it's only the beginning.
Ferris optometry third year Justin Ullrey attends the Michigan College of Optometry (MCO), located on Ferris' campus. He attended Ferris for his undergrad and is hoping to graduate from the MCO in spring of 2019.
"Since we spend all of this time together, we really become like brothers and sisters," Ullrey said. "I think the relationships that we have made are really cool,and something that I will never forget."
Optometrists can help people in all stages of life, which is something MCO third year Taylor Smith relates to well.
"It's a unique profession where we can help people over a span of different aspects from either contacts, to dry eye. And we get to help a wide range of people, I can have a patient who is five years old and then I can have a patient that is an 85-year-old. So, I can see someone throughout all areas of life and really be a pillar in my community and build those strong patient relationships which is really important to me," Smith said.
The Michigan College of Optometry is one of the smallest optometry schools in the nation, with only 38 spots to fill in each class. College of Optometry Dean David A. Damari takes pride in the small class sizes because it encourages students and professors to become close.
"The most unique thing about the program at MCO is our size. We are the smallest college on campus and, of the 21 fully-accredited programs in the US and Canada, only the program in Oklahoma is smaller. Our students and faculty will tell you that our size creates a feeling of family," Damari said.
The MCO eye care center is open to students. They offer services such as regular exams, contact lenses, sunglasses and glasses fittings and more. The eye care center accepts many different insurances, including Medicaid. Ferris students have a 25 percent discount off glasses. To schedule an appointment or if you have any questions, call 231-591-2020.
Click here for more from the Torch's Lifestyles section.