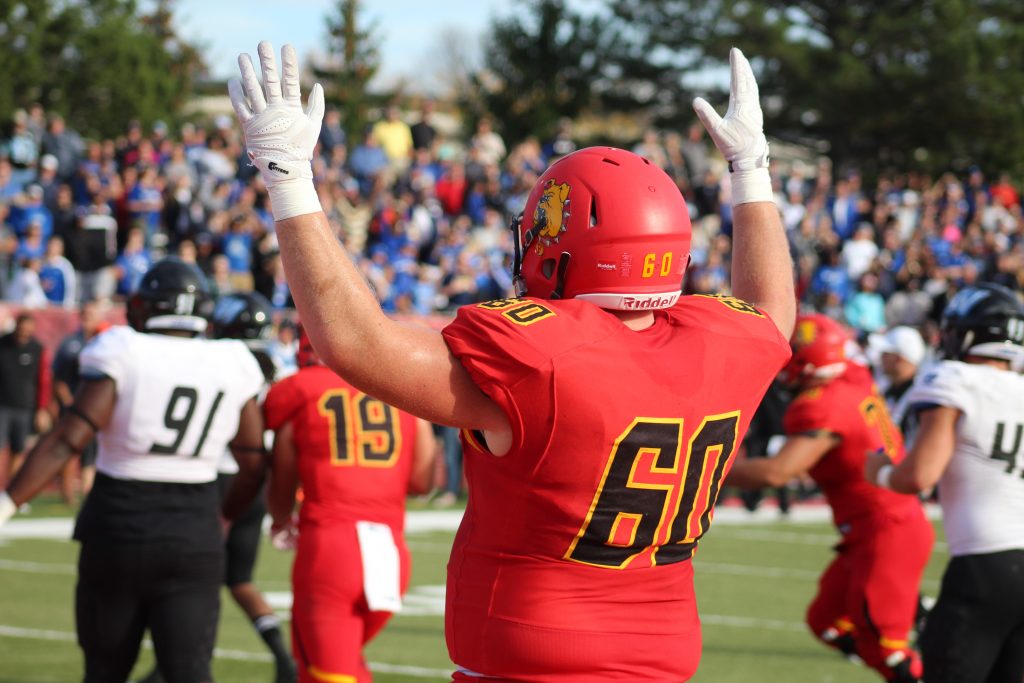 Former Ferris football offensive lineman Jake Daugherty was honored as a member of the All-American Good Works team during halftime at the Allstate Sugar Bowl on New Year's Day.
The 6-foot-2, 305-pound lineman was a force on the front line as a part of four memorable years of Ferris football. His career as a Bulldog was a successful one on the field but Daugherty will be remembered more for his work off the field.
"All the accolades I won in college, I think that's the one that means the most to me and the one I'm going to take with me for the rest of my life," Daugherty said. "All the championships and awards are cool but at the end of the day being recognized as someone who gives back to the community is something special. I was very humbled to receive that award and I'm very thankful."
Daugherty spent his time at Ferris constantly looking to give back to the community any way he could. Daugherty was added to the 2017 All-American Good Works team to honor and recognize not only the work he did over the past year but throughout his career as a Bulldog.
"My last three years at Ferris is when I really began giving back. I was just trying to make a stamp on Big Rapids and give back to the place that gave me so much," Daugherty said.
In a way to say thanks to Daugherty for the efforts he put in to give back to the community, Daugherty was flown out to New Orleans for the Sugar Bowl where he got to take in the game with his mother and many other members of the All-American Good Works team.
The All-American Good Works team was full of players from different college football divisions and getting the opportunity to be part of that is something Daugherty will never forget.
"The experience was crazy. There were people there that have helped raise money for cancer research and people who have started athletic leagues for at-risk inner city kids, so just being in a room with all 22 of us is humbling. You see the kind of work that people have done and you're just so thankful that there's good people in the world. It was an amazing experience," Daugherty said.
After graduating, Daugherty now looks to continue to give back as he begins his journey away from Ferris.
"I plan on giving back to Big Rapids as long as I can, or even out of Michigan and giving back to other places I go—maybe doing missions trips and going places that need help. I'm so fortunate that I had so many of my mentors telling me to give back, so that's my message for people," Daugherty said.
Click here for more coverage of the Ferris football team.