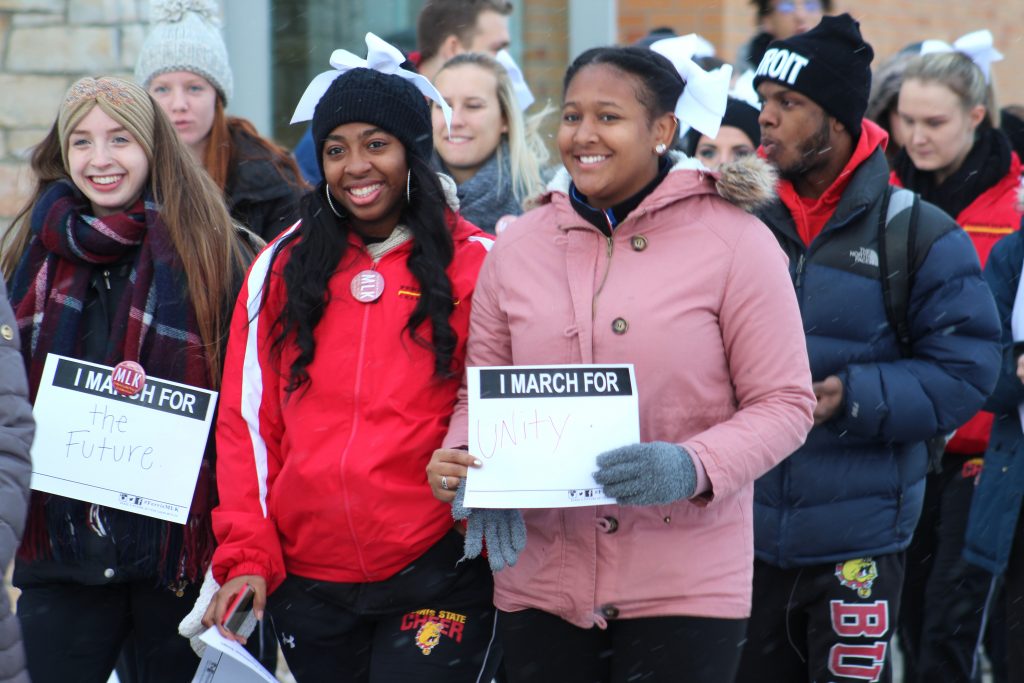 Nearly 50 years after his death, Ferris students and faculty continue to remember Dr. Martin Luther King, Jr. in a three-day celebration for the 32nd consecutive year.
Monday, Jan. 15 through Wednesday, Jan. 17, the Office of Multicultural Student Services (OMSS) held a series of events, exhibits and discussions to celebrate King. Annual events such as the Freedom March and the Student Tribute returned to campus on Monday. Other events included a discussion with Ferris alumnus Ron Snead, who discussed life at Ferris in 1968 when King was assassinated, and a presentation by author and activist Monti Washington about diversity and inclusion.
OMSS wanted the events to honor King as well as show students how they can make a difference today, according to OMSS Assistant Director Michael Wade.
"We should be reminded about what are our issues, what are our major social justice issues that we want to champion as individuals and how do we collectively come together? I think MLK Day serves as that opportunity to bring the campus community together to engage and reflect but also come together to champion any issues of today," Wade said.
In order to show students how they can make a positive impact, OMSS organized a way for students to give back on MLK Day.
"MLK Day is recognized as a national day of service, so because of that, we partnered with the CLACS Volunteer Center to coordinate sites in the Big Rapids community where students can go and volunteer on MLK Day," Wade said.
A large, diverse group of students and community members participated in the events. Ferris dental hygiene junior Karisa Sharon said the events were successful in bringing the campus together.
"It was nice to see everyone come together as a community, and it was nice to see familiar faces and people that I had classes with previously be in the march as well," Sharon said.
Ferris psychology junior Bailey Reiter participated in the march to honor what King did to lead us to equality.
"This day is important to me because we get to come together and really support, as a whole, as a school, the freedom that Martin Luther King, Jr. gave to us and gave to everyone and made us all as equal as we are at this point," Reiter said.
Wade agreed that King's message is still applicable today.
"Dr. King's legacy lives on in the work that we do. I think that too often we look at the leaders of the past when we're looking for leaders of today and really, we should be looking at ourselves. I think his legacy means that you do matter, everyone matters, but you can make a difference," Wade said.
Click here for more photos from Ferris' three days of events celebrating MLK.