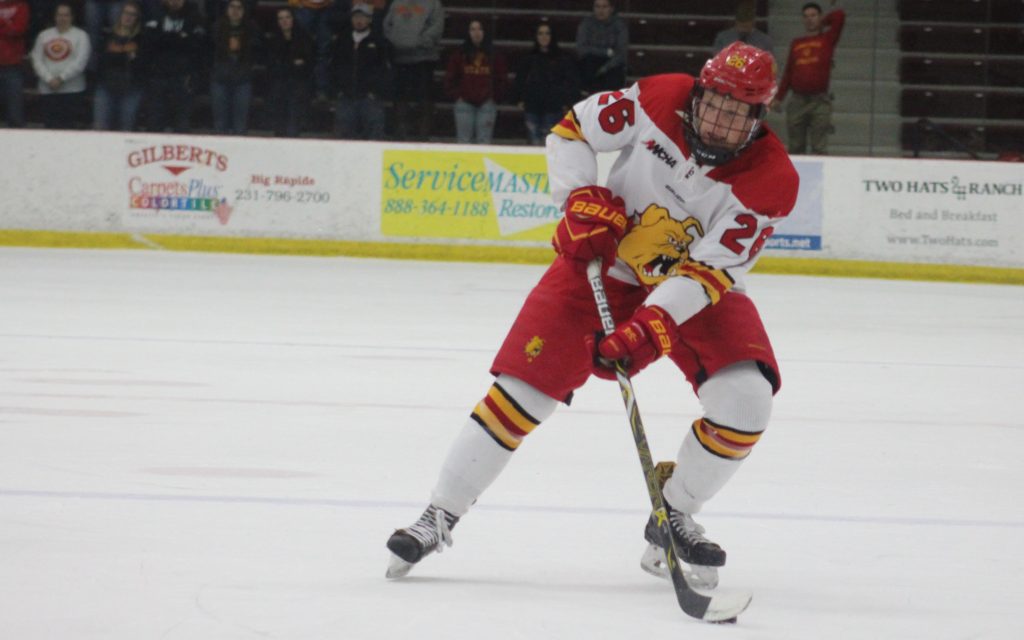 Ferris hockey is coming off a weekend split against rival Lake Superior State Friday and Saturday, Jan. 12-13 and looks to reach the potential that head coach Bob Daniels expects.
The Bulldogs have found themselves not performing well this season and have lacked consistent play. One factor that has hurt the Bulldogs this season has been a lack of competitiveness.
"I would like to see our guys have more competitiveness on the ice," Daniels said. "There have been some nights where our guys aren't competitive and aren't playing with the edge we need to win and that is very disappointing to see as a coaching staff."
Ferris has shown signs this season of what they're capable of and have shown signs of the championship culture that Daniels' teams have had in the past.
Early in the season, it appeared that the Bulldogs were beginning to find their stride when they beat the University of Michigan at Yost Arena for the first time since 2006. The team would then win six out of their last seven games. The Bulldogs also had sweeps against Alaska Fairbanks, Alaska Anchorage and Michigan Tech.
The Bulldogs found themselves on a sixth-game losing streak from December to the beginning of January. The team is now in eighth place in the Western Collegiate Hockey Association (WCHA) and will need to consistently win games in order to make their conference tournament.
Another factor that has greatly hurt the Bulldogs this season is not having everyone healthy at the same time. The Bulldogs have had over four players miss significant amounts of time due to illness or injury and that has affected team chemistry.
"We haven't been able to get into a rhythm this season due to our players not being at full strength and people have had to play different spots on the ice and that is very difficult to do in hockey," Daniels said. "Our team appears to be healthy right now, so I am looking forward to seeing what we are capable of at full strength."
The team is very young with ten sophomores, five freshmen and only six seniors. However, many of the young talented players for the Bulldogs have had significant amounts of playing time thus far.
The Bulldogs welcome tough competition to Ewigleben Ice Arena in the month of January and they look to put the pieces of the puzzle together in order to make the playoffs and hopefully the NCAA tournament.
The Bulldogs are back in action as they open a four-game homestand against the Bemidji State Beavers on Friday and Saturday, Jan. 19-20 with both games starting at 7:07 p.m.
Click here for more coverage of the Ferris hockey team.