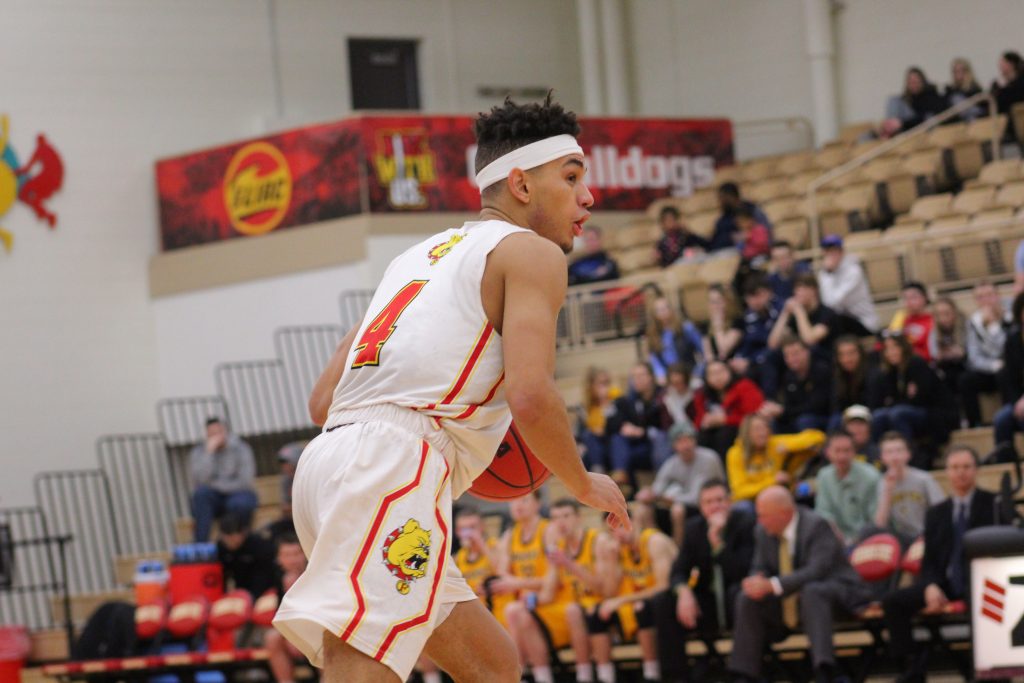 The nationally seventh-ranked Ferris men's basketball is currently on a six-game winning streak after a 74-71 victory on Jan. 13 over the Northern Michigan Wildcats in a highly contested Great Lakes Intercollegiate Athletic Conference (GLIAC) matchup. The game featured eight lead changes and was tied six times.
Ferris junior center Zach Hankins led the Bulldogs in scoring with a team-high 20 points and 10 rebounds en route to a double-double. Senior Noah King added 14 of his own while senior guard Drew Cushingberry and senior forward Peter Firlik added on nine in the afternoon.
The Bulldogs are currently 18-1 overall on the season after the win and stay number one at the top of the GLIAC standings.
Over the last three seasons, the Bulldogs have a record of 75-24, which is the greatest three-year run in school history. The Bulldogs have been ranked in the top 25 nationally each of the last three seasons.
The team has made three-straight NCAA tournament appearances, has claimed three-straight GLIAC Tournament Championships, claimed a regular-season GLIAC Championship, reached the NCAA Division II Sweet Sixteen once and has twice reached the NCAA Midwest Region Semifinals in the last three years.
The Bulldogs have not shown many weaknesses this season and appear to be on pace for another potential GLIAC Championship and maybe even a national title run.
"We know it's a journey and little steps to get to a national championship," Firlik said. "We talk about winning it all in March and how we are going to get there. It starts in practice everyday, but we know that we have a real shot at the national championship."
On Thursday, Jan. 4 the Bulldogs rallied to beat the Wayne State Warriors 86-80 in a thrilling battle.
Coach Andy Bronkema, in his fifth year as head coach, earned his 100th victory for the Bulldogs after the victory over Wayne State. Bronkema has compiled a 100-43 overall record along with three consecutive NCAA Tournament Appearances and three-straight GLIAC Tournament Championships.
"We're always preaching go for what's available, whether it is first place in the league, GLIAC champs or national champions," King said.
The Bulldogs will next be in action when they travel to play first year GLIAC opponent Purdue Northwest Thursday, Jan. 18 at 8:00 p.m.
Click here for more coverage of Ferris State basketball.