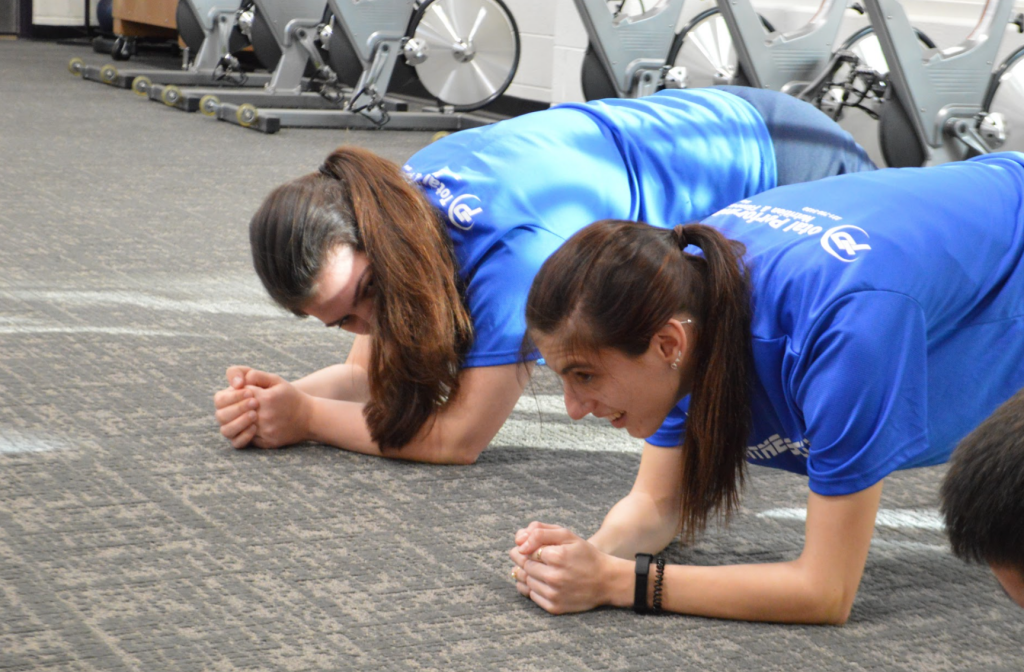 As the new semester begins, students return with new goals and interests in mind. For some, these goals include popular new year resolutions such as losing weight or being more involved during the academic year.
This is where Blue Line Fitness Club comes into play. Blue Line is a registered student organization (RSO) on campus that first began as a way for law enforcement students to prepare for the Michigan Commission on Law Enforcement Standards (MCOLES) and improve their overall fitness but soon evolved into a group open to all students regardless of their major.
Ferris criminal justice in a journalist track senior Bailey Carlton Sargent is the President of the RSO and has found the group to be rewarding for networking purposes and making new friends.
"One of the biggest things for those who want to join is that it is pretty much self-paced. I do try to push people to try harder and do the best that they can but that is exactly what it is—the best that they can. A lot of my workouts are timed, as opposed to repetition, which a lot of people prefer in my opinion, because when they are timed you can do as much as you want to do. So I guess the best thing to know is that you shouldn't be afraid to come because there is a lot of camaraderie and it is very self-paced, so there isn't fear of being judged in that type of environment," Sargent said.
Ferris psychology senior and criminal law enforcement junior Madison Brouckaert has found Blue Line to be a rewarding RSO, despite her own hesitance to join last year.
"I think it really is a good support group. I've met some of my best friends through it. The whole e-board is actually pretty good friends. So I think it's a really good way to meet people," Brouckaert said.
Those looking to just work out are welcome to check out Blue Line but in order to be considered a member, students must attend at least five sessions a month and have a GPA of 2.5 or higher.
Meetings generally run an hour in the Rec center, with meetings being every Monday, Wednesday, Friday and Sunday at 6 p.m.
"I mean, I would say, RSOs in general—join them. I'm in three and I have a job and I wanted to join as many as I could because I wanted to be involved—especially this one. You'll be able to meet students your own age, you'll also meet those older than you. You'll be able to make connections, make friends and you're just going to prepare yourself. In this case, how Blue Line prepares you for the academy," Ferris law enforcement with a track in criminal justice freshman Brendan Calvert said.
For more information regarding Blue Line, contact Bailey Sargent at sargenb@nullferris.edu.
Click here for more from the Torch's Lifestyles section.