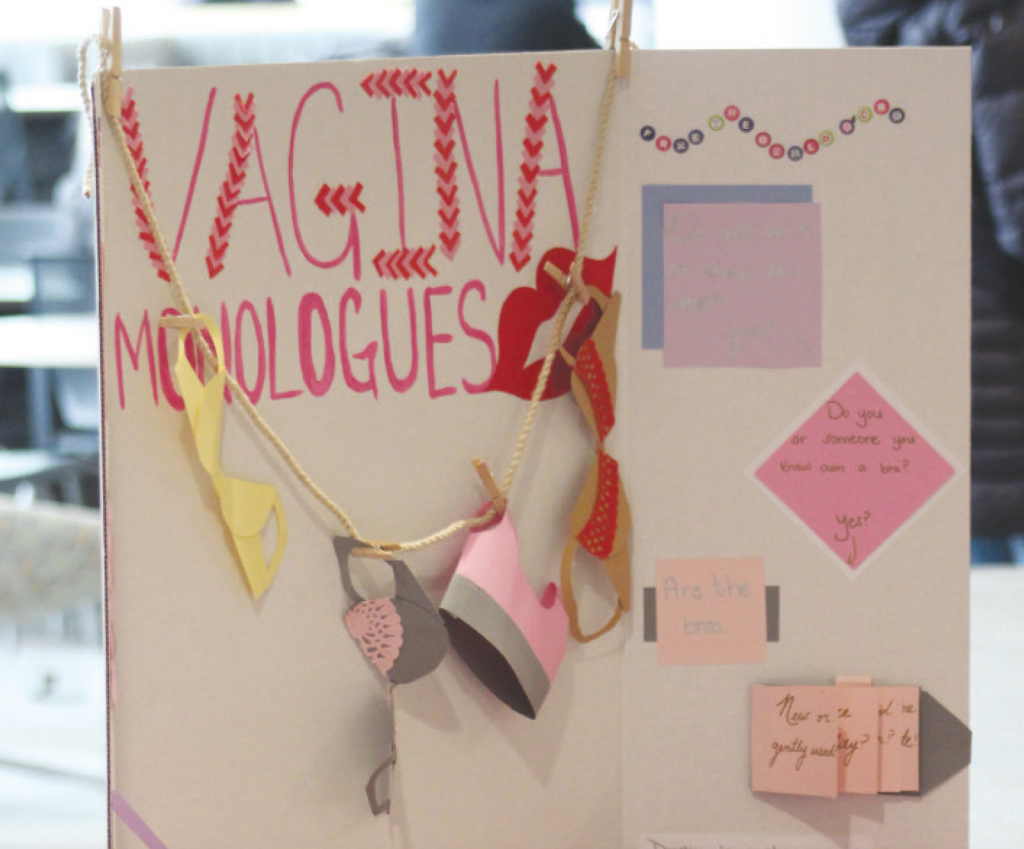 The Ferris Social Work Association wants your bras and they want them now.
Ferris social work students are working to raise awareness about violence against women and promote female empowerment by hosting a bra drive and taking the stage.
7 p.m., Thursday, Feb. 8, at Williams Auditorium, the Social Work Association is hosting the Vagina Monologues, an event to discuss women's issues in society. An all-female cast will perform monologues written by playwright and women's rights activist Eve Ensler, according to Ferris social work senior and Social Work Association President Charlotte Halm.
"We're talking about the tough stuff. Not everything in this is funny. Some of it gets down to genital mutilation, rape, sexual assault, things like that. Some of the monologues have kind of a lighter spin on them but not all of them, so it definitely gets you talking about the tough stuff. It kind of makes you uncomfortable but then you grow. And that's what we're all about," Halm said. "With an event like this, we hope it gets people talking."
In addition to the performance, the Social Work Association is helping women in need by working with freethegirls.org. People can donate their new or gently used bras that will be sent to the organization, who employs women freed from human trafficking to sell the bras in order to teach them life skills.
"They sell them so survivors of human trafficking can sell these bras in stores and empower them to be entrepreneurs. It raises money for them, it teaches them skills that they might not have learned due to their circumstances, so it benefits the survivors and gives them opportunities to grow," Halm said.
Ferris social work senior and Social Work Association Vice President Nicholas Hadley hopes the performance and the bra drive will spark an important discussion on violence against women.
"There's a lot of things that happen to women that aren't talked about and if people are afraid to talk about them, then the issues will never be brought up and never will be sorted out. I think the important thing is that it needs to be talked about one way or the other, and there needs to be an understanding of some of the violence that does happen to women," Hadley said.
According to Ferris criminal justice junior and Student Director of the Vagina Monologues Xena Cook, this is a discussion that needs to be heard by everyone.
"It is important to discuss this topic on a college campus because the students are the future and if we want anything to change for the better then the students need to know and understand what is going on," Cook said.
For more information on the Vagina Monologues or to donate to freethegirls.org, visit the Social Work Association's table in the University Center.
The Vagina Monologues' Free the Girls Bra Drive will be present at the University Center 11 a.m. to 1 p.m. on the following dates:
Friday, Jan. 26
Tuesday, Jan. 30
Tuesday, Feb. 6
Wednesday, Feb. 7
Thursday, Feb. 8