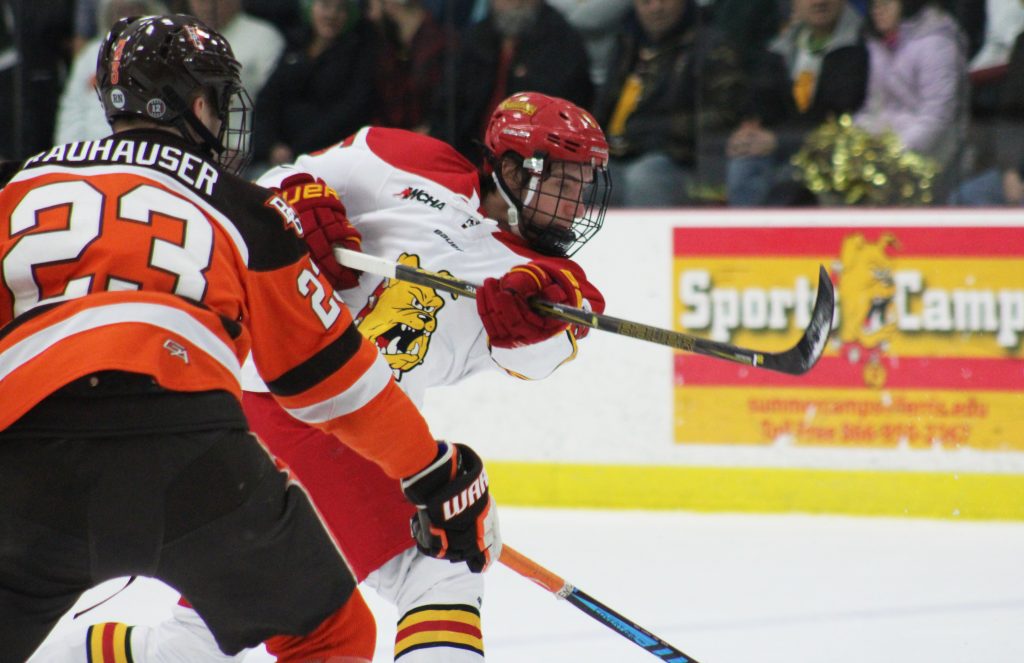 Heading into their weekend series with Bemidji State, the Bulldogs have somehow found themselves with an opportunity to get right back into the thick of things.
After their split on the road last weekend against Lake Superior State, the Bulldogs (10-15-1) have remained idle in eighth place in the Western Collegiate Hockey Association (WCHA), holding onto that last playoff spot. Though they sit near the bottom, Ferris has a real opportunity this weekend to not only gain some respect but to also earn a second chance.
Let's be clear. This is not a make or break weekend, that was last weekend. No, this series against the Beavers at home is a make weekend. Though Ferris sits in the last playoff spot, the Bulldogs are just six points away from being right in the hunt for home-ice come playoff time.
With a six-point sweep this weekend the Bulldogs would climb to 28 points in the conference. Alabama-Huntsville sits at sixth in the conference with 24, Alaska right behind with 23, and Michigan Tech in fifth with 28. Bemidji State has a hold of the last home-ice spot right now, sitting in fourth with 30 points.
So, let's break this down.
The Bulldogs have two games in hand on Alabama-Huntsville who is idle this week. They don't play again until Jan. 26. So those two games that the Bulldogs have in hand are this weekend. Pass. Alaska, a team that Ferris swept back in November travels to Michigan Tech this weekend. If everything plays out the way it should, that's a pass.
So that would leave Ferris sitting in sixth place right behind, Bemidji who would stay at 30 points and Michigan Tech who the Bulldogs are set to host next weekend. If Ferris can put together two good weekends here they have a chance to move right on up in the standings and take a home-ice spot with less than a month left in the regular season.
So, what needs to happen for the Bulldogs to come out on top this weekend? First the team must play back to back, 60-minute games. Something I think the team has done a better job of as of late.
Second, Darren Smith, Justin Kapelmaster, hell I don't care if they put Jake Hetz in net; whoever is in between the pipes needs to be the best player on the ice both nights. Frankly, this team has been let down time and time again by an inexcusable, inconsistent season out of their netminders. That needs to stop this weekend, one of those guys has to step up. Both of them are capable.
Now, who is this Bemidji State team? Well, the Beavers (11-7-6) sit at fourth in the WCHA, holding onto that last home playoff spot. The Beavers won six straight WCHA games before traveling to Grand Forks last weekend where they lost and tied No. 8 North Dakota. Tying North Dakota is honestly more impressive than any of those six wins in the WCHA, so this team is good.
The Beavers are led offensively by senior forward Kyle Bauman who has nine goals and 17 assists for 26 points in just 24 games this year. Senior forward Gerry Fitzgerald isn't far behind with 23 points in 24 games.
The Beavers have also gotten solid goaltending from senior Michael Bitzer who has a .910 save percentage, 2.25 goals against average, four shutouts, and a boatload of confidence as he's appeared to have found his game. Bitzer sits top three in the WCHA in every goaltending category. Like I said, Smith or Kapelmaster will have to be the best player on the ice both nights. Why? Because at the other end is Bitzer.
This Ferris State team has potential. Potential doesn't win games.
The Bulldogs host Bemidji State both Friday and Saturday night. Both games are scheduled for a 7:07 p.m. puck drop.