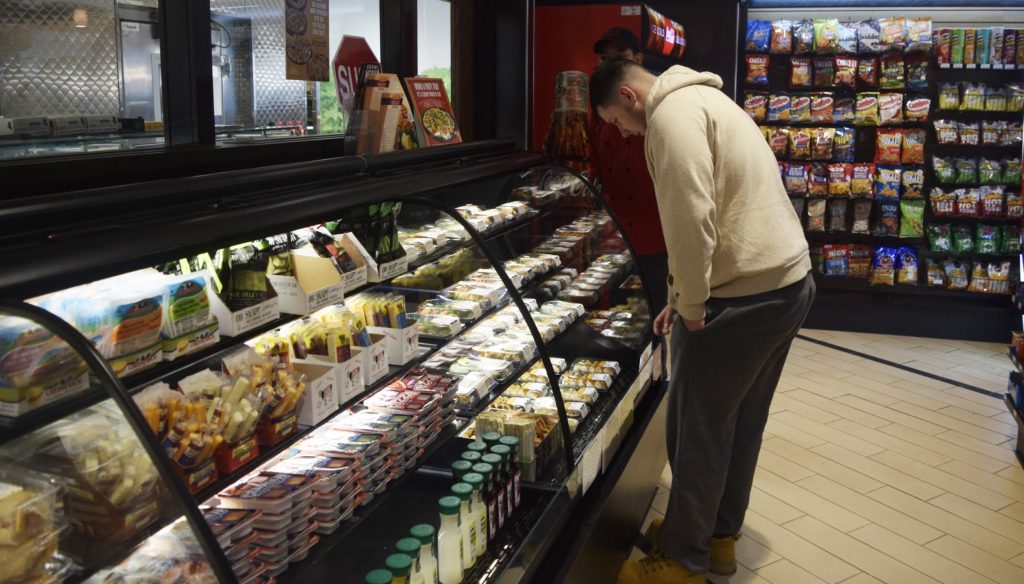 While the students were away on break, construction teams were at work and the University Center received an update in the Quad.
The addition, dubbed the Snack Shack, is much like the Market next to the Rock, selling a multitude of snacks and several Meal X-Change options. For busy students with meal plans, this provides a quick option to eat. And for students who want to sit down and eat, the Quad may be less busy around meal times.
"I think the main benefit will be that the Quad will be less busy," Ferris business administration freshman Jared Prevost. "Sometimes you can't even find a seat and especially when you're paying for a meal plan that can be really frustrating. So just knowing you can go in there and buy a snack and use your Bulldog Bucks will be nice."
According to Associate Vice President for the Physical Plant Michael Hughes, the update was needed because of the customer demand for a quicker dining option. Hughes also said that minimal seating was lost from the addition and the project in total cost around $150,000.
"That facility has really exceeded everyone's expectations—the University Center—and really has become the living room for the university. So, I think it was just recognition of the folks that wanted something quick to get it, go and get on their way, stick it in their backpack for later," Hughes said.
Some students are a fan of the new option because it's just that—new.
"Most people get tired of [the Quad], sometimes I get tired of it and I'll just want to run in there real quick and get something," Ferris sports communication junior Isaiah McCrory said.
Other ongoing projects that made progress over break included the locker rooms at the Recreation Center, the tennis courts and the Swan annex project. Projects to break ground in the near future are the Professional Golfers' Association (PGA) Learning Center at Katke and renovations to the Pharmacy building, according to Hughes.
Click here for more from the Torch's News section.