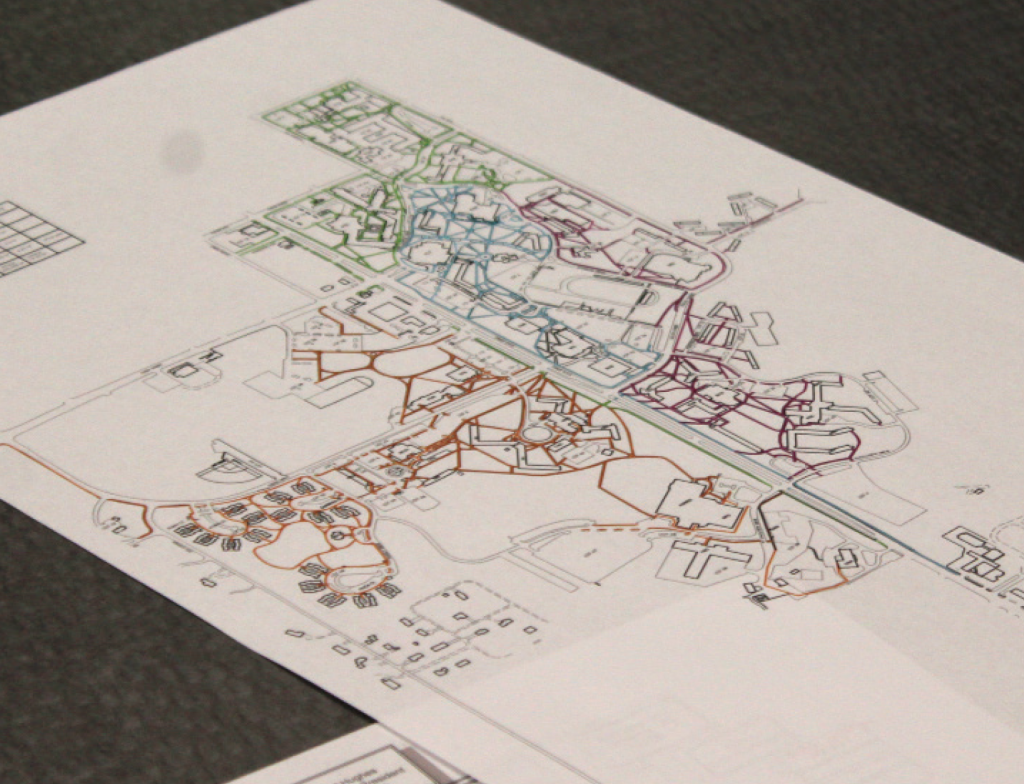 On cold, icy mornings, while many Bulldogs are still asleep, students working with the Grounds department are already outside salting the steps.
The Ferris Physical Plant and the Grounds department are in charge of keeping walkways clear of snow and ice during the winter season.
The process is more complicated than it seems. According to Interim Grounds Manager Supervisor Scott Wilcox, the tasks involve many workers and take about 12 hours on average to complete.
"Typically, if it's snow we'll start at 3 in the morning. That means getting up and Public Safety giving me a call if there's two inches or more of snow that we need to clear. Then I'll get up and have to call in 12, sometimes 13 guys to come in at 3 in the morning and start their day," Wilcox said.
The routine varies depending on the severity of the weather.
"A lot of it depends on the snowfall and when the snow starts. If it starts in the evening before and it's done by 3 a.m., that's perfect, because the snow is done falling from the sky and we can plow what is there. If it continues to snow when we're plowing in that 12-hour process, the sidewalks or the roads that we started on 12 hours ago have another four inches of snow on there or however long it's snowing, so we have to start the process all over again," Wilcox said.
Full-time workers utilize machinery to drive around campus, plowing and salting the sidewalks, roads and parking lots. Student workers are in charge of salting the steps of buildings, as well as salting handicap locations, shoveling curb cuts and clearing fire hydrants of snow and ice.
Although the workers put in a lot of effort to salt the sidewalks, the salt isn't always effective in melting the ice.
"The problem we've had this year so far is that salt does not work below 17 degrees and we've had a lot of days this winter so far where it's been below 17 degrees, where salt will sit there but it will not melt [the snow]," Wilcox said.
Wilcox said a large challenge workers face in the winter is a lack of sleep.
"During the wintertime, a lot of the time I don't get very much sleep because I'll be getting up two or three times in the middle of the night just going out and checking if anything has happened and deciding if I have to call in. If it's a storm that's predictable and we know when it's going to start, we will plan on it the day before and I'll tell the guys we'll start at 3 in the morning. That way, they can plan their evening and get lots of sleep before coming in," Wilcox said.
Often, students have complaints regarding the conditions of the sidewalks. According to Director of Plant Operations and Project Manager Mark Eichenberg, students and faculty can report slippery areas on campus and the groundskeepers will fix them.
"They get called into our front desk dispatch station up here and we turn around and let Scott know that that's a concern and we'll turn around and end up taking someone off what they're doing over here to try to go and address that. But if we do take them off the path and route that they're on now, obviously we're not getting that one done because you can't be in every spot on campus at all times. We respond to those as we get them," Eichenberg said.
Wilcox said the effort put into the process isn't always visible.
"Our salt is white and snow is white. So it may not look like there's anything on the sidewalk but there's salt on there," Wilcox said.
Student workers like Ferris marketing student Kyler Koopman want fellow Bulldogs to understand and appreciate the work that goes into clearing the walkways every day.
"If we didn't do it, who would do it? How would the campus get shoveled and salted without us?" Koopman said.
Click here for more from the Torch's News section.