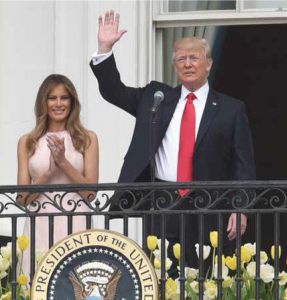 President Donald Trump's first year in office was full of controversy, accomplishments and tweets.
Trump promised a lot during his presidential campaign and while he may not have hit the majority of the 100-day goals that he set, the rest of the year proved to be more successful.
The final three months of 2017 saw the national unemployment rate fall to 4.1 percent, which is the lowest unemployment rate since December of 2000, when the rate was 3.9 percent in the final month of Bill Clinton's presidency.
Just in time to fit into the first year of Trump's presidency, the Dow Jones closed at a record high of $26,115.65 on Wednesday, Jan. 17. This has been widely attributed to investors' faith in Trump's new tax plan.
Said tax plan, which made $5.5 billion in cuts, has arguably been Trump's largest accomplishment over his first year. The cuts, which largely benefit major businesses by cutting their tax rate by 14 percent, have played a major role in companies like AT&T and Boeing announcing that they will be giving back to their employees, and Apple announcing they will be creating 20 thousand more jobs in America over the next five years.
"I would say the two biggest accomplishments are the tax reform bill—$5.5 billion in cuts across all lines: corporate tax cuts and individual tax cuts—and appointing Neil Gorsuch, who is a staunch conservative, to supreme court," Ferris construction management senior Chris Kohane said.
Other Trump supporters at Ferris are also happy with what he was able to accomplish in year one and that he has made attempts to keep many of his campaign promises.
"I think that overall he has done well. Has he lived up to everything he said he would do? No. But regardless, he has at least made an attempt on most of what he promised in the campaign," Ferris electrical engineering technology senior Nathan Reeder said.
With all of President Trump's accomplishments in his first year, it was also a year that continued on the path of his controversy ridden campaign trail. It took less than three weeks after his election before Trump accused Hillary Clinton of receiving millions of illegal votes during the election and blaming that on his loss of the popular vote.
Then, shortly after he officially took over as president, Trump accused former president Barack Obama of wiretapping him during his election campaign. That accusation was denied by former FBI director James Comey, who was fired during his investigation of Trump's collusion with Russia during the campaign.
In addition to those controversies, some Ferris students are worried about Trump's Twitter and about his treatment of minorities and the LGBTQ community.
"I think immigration reform is not being approached the way that it should be. He wants to end DACA and the Dreamer Program and implement the Succeed Program, which I think is too strict and won't do what it should for the American people," Ferris social work freshman Mikaela Buresch said. "What's stood out most for me is the back and forth with North Korea. I think he's acted very unprofessional."
As for Twitter, many supporters and critics of Trump at Ferris think he should step away from tweeting.
"Social media wise, he shouldn't have a social media account. It has to stop, he talks way too much and he has to stop that," Ferris pre-pharmacy freshman Eric Finn said.
His critics echoed those same sentiments regarding his social media use.
"I think he should put down his phone. That would be best for him. Especially when he talked about Kim Jong-Un and how his button was bigger, it just makes him look even worse," Ferris pre-pharmacy sophomore Lucas Orosco said.
As a whole, Trump's first year in office has been one of the most highly controversial and scrutinized years for any recent president. It has been full of ups and downs and ended with an economic record. Trump's presidency has been a polarizing issue for much of America, including Ferris, and looks to continue that trend into year two.
Click here to see President Trump's most retweeted tweets of the past year.