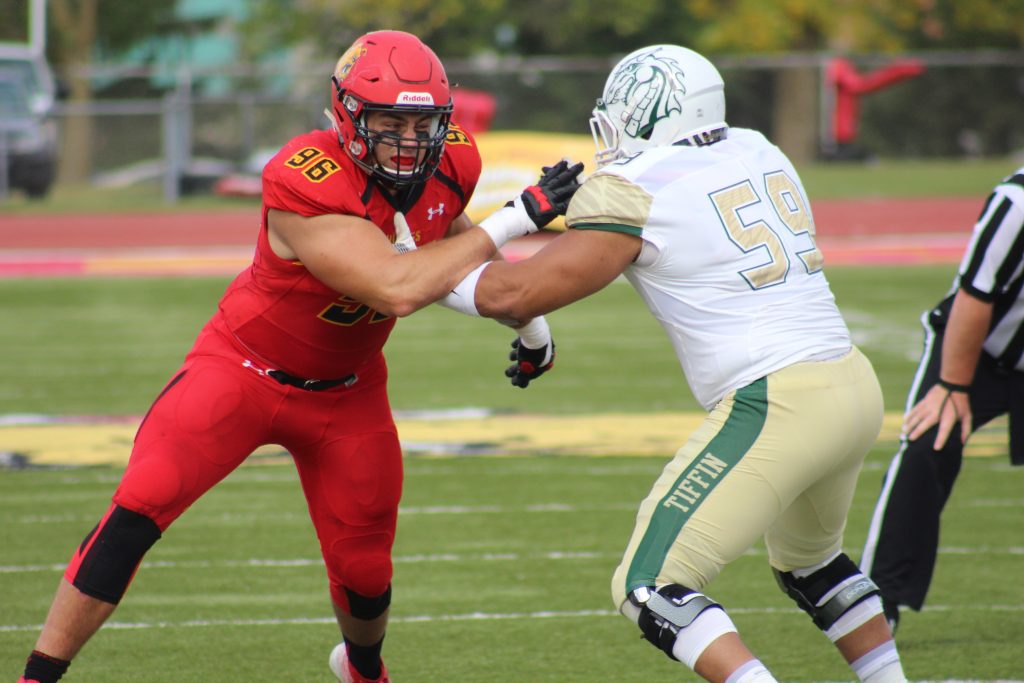 Zach Sieler is leaving Ferris after all.
The 6-foot-6 290-pound senior lineman announced on Wednesday, Jan. 24, that he will forego his fifth and final year at Ferris to play professional football.
Sieler, a two-time All American, helped lead the Bulldogs to the Division II National semi-final in 2017.
Sieler graduated from Ferris with a degree in mechanical engineering technology in December and is now focused on preparing for the draft in April. If selected, Sieler would be the first Bulldog ever to be selected in the NFL draft.
The Pinckney native came to Ferris as a walk on before developing into one of the biggest and toughest players in Division II football.
Though he lined up across more than one offensive lineman on most occasions last season, Sieler still led the team with 21 tackles for loss and seven sacks, while also coming in third in team tackles with 79. Sieler also forced and recovered two fumbles.
Sieler had a break-out season as a sophomore in 2016, breaking Ferris football records with 29.5 tackles for loss and 19.5 sacks. He was awarded as the Football Gazette National Defensive Player of the Year for his efforts in 2016.
Sieler will look to join former teammates Jason Vander Laan, Brady Sheldon and Jake Lampman in the NFL.
Fans can tune in to the NFL draft April 26-28 to see if Sieler is selected.
Click here for more coverage of Ferris State football.