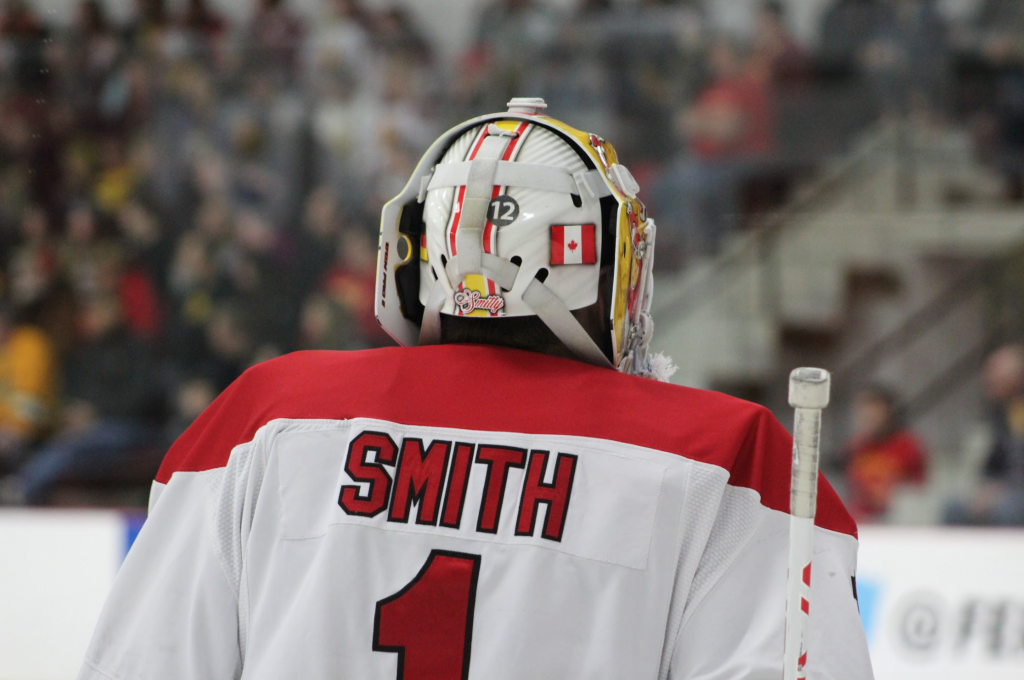 The Bulldogs got their second regulation victory on the weekend, defeating the Michigan Tech Huskies 3-1 on Saturday night, earning six points on the weekend.
Michigan Tech, a team twelve points ahead of the Bulldogs coming into the weekend failed to match the intensity that Ferris displayed for a full sixty minutes in the second game of a vicious series. With the pair of wins the Bulldogs have climbed from eighth place to sixth, jumping over Alaska and Alabama-Huntsville.
The sweep came at the perfect time as the Bulldogs have failed to put together the wins in a tough month of January.
"Both teams came out and really competed hard. There wasn't that sense of panic for us. I thought it was a better game in terms of puck movement," head coach Bob Daniels said. "We got engaged early and we stayed engaged. It's the best game we've played this year start to finish."
After a back and forth first period, the Bulldogs were able to strike first in the second as forward Corey Mackin roofed one home on the powerplay for eighth of the season. Just a few minutes later, defenseman Ryker Killins came in on the rush and sent a shot off the pad of Tech goaltender Patrick Munson that freshman Coale Norris was able to bury home to put the Bulldogs up 2-0.
The Bulldogs weren't done in the second period as Lucas Finner got a loose puck while shorthanded and went in all alone on Munson before threading one through Munson's pad to extend the lead to three.
"Shorthanded goals kill the other team's momentum and just build ours. That was a great play. Finner broke and [MacDougall] found him and it was just a great play all around," Mackin said.
The backbone of the team throughout the weekend was junior goaltender Darren Smith. Smith saved 26 shots he faced tonight, getting a bit unlucky on the lone Huskie goal. Consistency in the net has been an issue at times for the Bulldogs this year but not this weekend. Smith showed glimpses of the play we saw from him back in his freshman year where he led Ferris to a Western Collegiate Hockey Association (WCHA) championship.
"I felt good all weekend. I felt locked in. I thought the guys played really well in front of me and made my job a lot easier. I was just seeing pucks well tonight and the guys were clearing the lanes," Smith said.
The Bulldogs will now look to build off this momentum as they travel to faceoff against Alaska next week on the road. Both Friday (Feb. 2) and Saturday (Feb. 3) are set for a 11:07 p.m. puck drop.