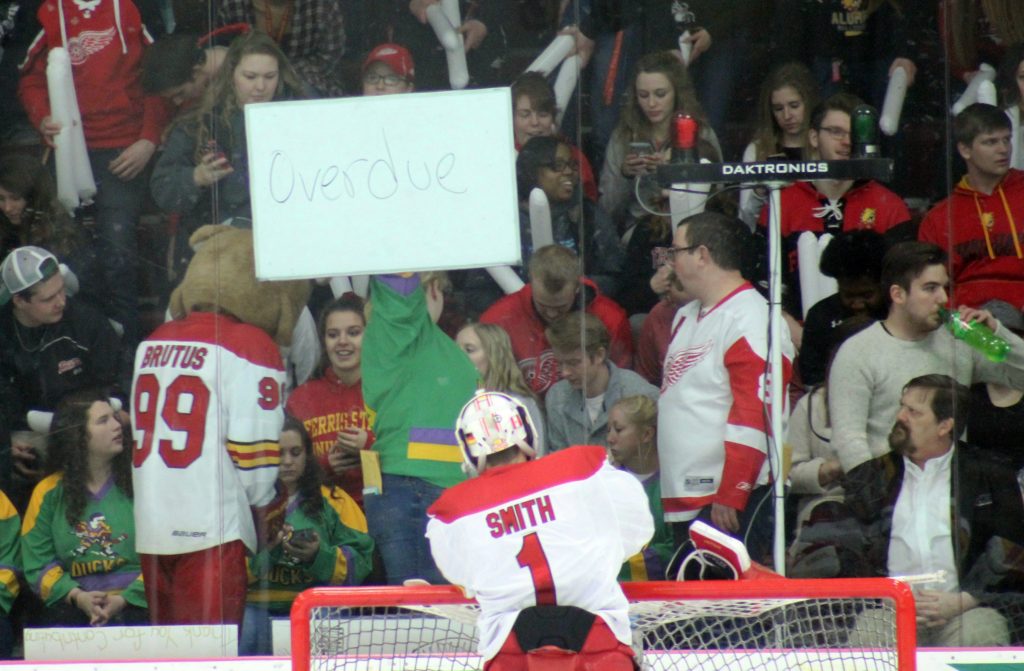 Just when you thought the Ferris hockey team was all but finished, the team dominated the Michigan Technological University (MTU) Huskies Friday, Jan. 26, and Saturday, Jan. 27, to earn their first sweep since early December.
January was a tough month for Ferris. Heading into the matchup with the Huskies, the Bulldogs were losers of eight of their last nine games with defensive woes, offensive droughts and consistency issues in the net plaguing them.
"We came in with not a lot of confidence. Obviously, we've been struggling, so to get a sweep, the guys should come away with a lot of confidence given the strength of the opponent we played," Head Coach Bob Daniels said.
After being swept twice on home ice at the hands of Bowling Green State Jan. 7-9, and Bemidji State Jan. 19-20, even a playoff spot wasn't a given. Though the Bulldogs looked good enough to win any of those games, finding a full 60-minute effort was few and far in between but the locker room stuck together and willed their way to an impressive effort over the Huskies.
"During that stretch we played a lot of good hockey. Our biggest problem was consistency. It's not easy being in that locker room when things aren't going well. It's tough for them to hold together and I thought they did a really good job of that," Daniels said.
The team certainly did hold together as they showed what they are capable of with the sweep against MTU. Putting the losses behind them, the Bulldogs pushed themselves to a level of play that hasn't been seen all year.
"The season hasn't gone great and we just kept working in practice and staying as positive as we could and that really helped us," Ferris junior forward Corey Mackin said.
Now sitting in sixth place in the Western Collegiate Hockey Association (WCHA), the Bulldogs are right on the heels of MTU who sits just six points ahead in fifth. Though six points sounds like a lot, it's just a good weekend and a bit of luck away.
Though home ice at this point is a long shot, the Bulldogs have an opportunity now with six games left in the season to build some momentum and confidence to carry into the WCHA playoffs come March.
"We just need to find a way to capitalize on our opportunities and find a way to bear down," Ferris freshman forward Coale Norris said.
The Bulldogs will continue their final stretch when they travel to Alaska this week to play Friday, Feb. 2, and Saturday, Feb. 3. Both games are set for an 11:07 p.m. faceoff.
Click here for more coverage of Ferris State hockey.