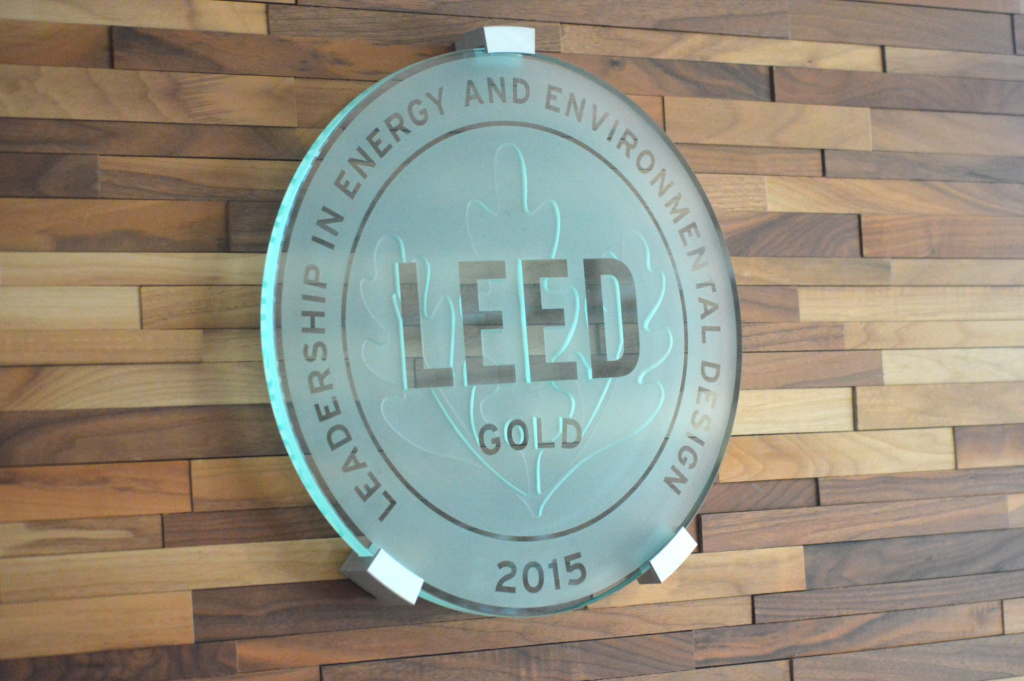 Since the creation of the Energy Conservation Task Force in 2009, every completed building project on Ferris' campus has earned LEED Gold status, including North Hall, which opened in August 2017.
LEED is a rating system by the U.S. Green Building Council and it measures the commitment to sustainability and energy efficient design. In most building projects, this equates to simple things like good quality insulation and windows, low water use plumbing fixtures and efficient lighting, according to Ferris Associate Vice President for the Physical Plant Michael Hughes.
Ferris' standard for all building projects since 2011 has been LEED Silver status. Among the other buildings that have gained LEED Gold status are East Campus Suites, Michigan College of Optometry, W.N. Ferris Building (Grand Rapids Campus), the University Center and West Campus Apartments.
"I would say that any kind of energy conservation is important no matter how small," Ferris psychology junior and secretary of the Bulldog Sustainability Alliance Dani Jandura said. "So, starting with buildings, something that we are constantly interacting with, should be the first thing we take care of."
In surveys conducted by the Environmental Sustainability Task Force in 2016, it was found that 73 percent of Ferris students feel that understanding sustainability is critical to their future careers and 64 percent of students feel it is somewhat to very important to know about university sustainability actions.
"Five, 10 years ago, sustainability would have never been on their radar and now it's one of their three or five most basic concepts that they're going to try and work into things. It's important and I think it's really cool that they're doing that," Jandura said.
Efforts to increase sustainability and energy conservation in buildings has, quite literally, paid off. For the fiscal year of 2017, total electricity, natural gas and water cost was the lowest it has been in 10 years. Overall, those costs decreased by 26 percent in that decade.
According to Hughes, around $3.5 million has been invested into projects that save energy around campus such as light and water conservation retrofits since 2011.
"I think it's just part of being a good citizen but for us it's more practical," Hughes said of sustainability and energy conservation. "For every dollar we don't spend on energy, that's another way to keep costs low for students."
Although pleased with the progress Ferris has made, members of the Bulldog Sustainability Alliance want to push for higher standards.
"We're just trying to get them to change the standard to Gold in the first place because they are already achieving it anyway, so we might as well make it the Gold rather than falling back to the Silver standard," Ferris environmental biology junior and vice president of the Bulldog Sustainability Alliance Amber Hubbard said.
The Energy Conservation Task Force is composed of 14 members from across campus including the Physical Plant, Dining Services, Student Services, Academic Affairs, Arts and Sciences, Advancement and Marketing, faculty, finance and Kendall College of Art & Design. This group was asked to identify ways the university can reduce its consumption of natural gas, electricity, water and solid waste but at the same time, to focus on projects that are no cost, low cost or ones with a payback period of up to four years, according to their report from 2009.
"Ferris is moving towards being more sustainable and that's a start," Hubbard said. "I'm just very proud of the university for stepping up to the plate and doing as much as they can feasibly."
Click here for more from the Torch's News section.