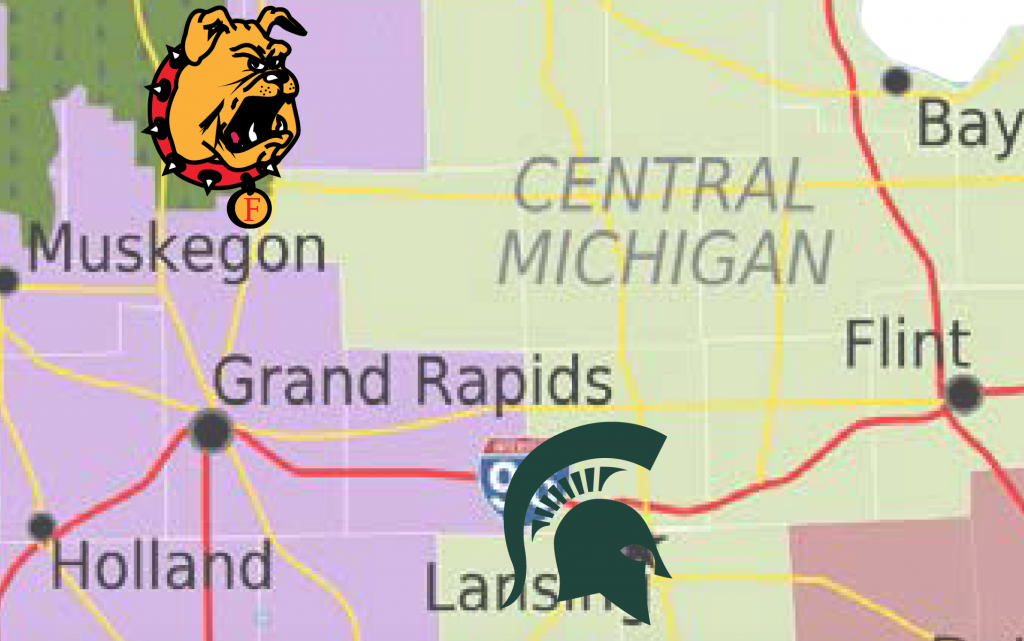 The sexual assault issues at Michigan State University (MSU) have caused Ferris to review its own policies, especially within athletic programs.
MSU team physician Larry Nassar was sentenced to a 60-year federal sentence for child pornography, 40 to 175 years from Ingham County and 40 to 125 years from Eaton County in state prison for sexually assaulting young women and girls during supposed medical procedures. Nassar worked with MSU teams and at the MSU Sports Clinic since 1997 and also worked with USA Gymnastic teams since 1986.
At Nassar's sentencing, victims were allowed to give impact statements of the abuse they suffered from him. More than 200 women spoke, and the number of women who made disclosures to law enforcement rose to 256, according to multiple news sources.
"With the Nassar situation, I mean, it's sad to say that people can be brainwashed. Gymnasts, you know, they're almost trained to be soldiers, to endure so many difficult things at a young age," Ferris football head coach Tony Annese said. "It's almost like they were brainwashed into thinking that something was okay that was horrifically bad and that is so sad."
Many of the impact statements included criticism of MSU administrators and coaches, especially then-president Lou Anna Simon. She resigned on Jan. 24, hours after Nassar was sentenced. MSU athletic director Mark Hollis followed suit and stepped down on Jan. 26.
Investigations found that at least seven women and girls reported concerns about Nassar to coaches, trainers, police or university officials between 1997 and 2015. A few of these were MSU gymnasts who testified in their statements that they raised concerns about Nassar to Kathie Klages—who then told them that they misunderstood the treatment—as far back as 1997. Klages stepped down in 2017 after she was suspended. Though Nassar faced two police investigations and one university inquiry in that time, he was never charged, according to various reports.
The U.S. Department of Education's 2015 investigation of MSU found "significant concerns" in 30 of the 150 cases reviewed. Among the most concerning was a report that a sexual assault counselor was accused in 2009 of harassing a student who sought counseling and was not formally investigated.
"I was really mad because I just heard about it two days ago and I had never heard about it before and it's been going on for 20-some years? That's ridiculous," Ferris psychology sophomore Lily Smith said. "If people have come forward and people have denied it, then they're just covering it up and for how long? They should be held accountable."
After an investigative report was released by ESPN, MSU athletic programs, specifically basketball and football, fell under scrutiny of how sexual assault allegations and investigations involving players were handled in the past. Annese expressed that if coaches aren't following up to make sure everyone is doing their job after they make a report, they are responsible.
Sometimes, when it doesn't go up the ladder the right way, there's negligence as well. I need to not only report it up the ladder but I need to make sure it gets entirely up the ladder to the people who need to know," Annese said. "Then if it stops at some level and nothing happens, I know it's significant enough where I've got to ask again."
According to Annese, Ferris football players are responsible for creating a list of standards that they commit to holding each other to and included on the list this year was to "respect women."
Annese makes it very clear to players that if any sexual assault issue is brought up to him, he will report it to the University and the player will be kicked off the team, according to Ferris sports communication junior and quarterback Jevon Shaw.
"[Annese] told us one thing, it's not smart to go out and do something stupid and you have something that says Ferris State football on. It makes us look bad as an organization, it makes you look even worse," Shaw said.
Ferris athletics has long been intentional about education on sexual assault to all athletes but even so, the recent events will bring about a review.
"For years, the Ferris State athletic department has been proactive in this education and I am sure we will use the lessons learned from the horrible experiences of Dr. Nassar's victims to strengthen that education," Ferris volleyball head coach Tia Brandel-Wilhelm said.
In the wake of the Nassar scandal, a university-wide notice was sent out from the President's Office on Jan. 29. In the email, President Eisler expressed sympathy for the victims but declared that the University will "take a hard look at our current processes" and "thoroughly examine and review our policies and procedures" through a task force headed up by Vice President for Student Affairs Jeanine Ward-Roof.
"Tragedies are a call to action—for our university, for each of us who works here, for every person who pursues their education here and for anyone who visits here," Eisler said in the email. "At Ferris, we will continue to build a culture of sexual assault prevention and provide immediate response and support for survivors of sexual assault."
Click here for more from the Torch's News section.