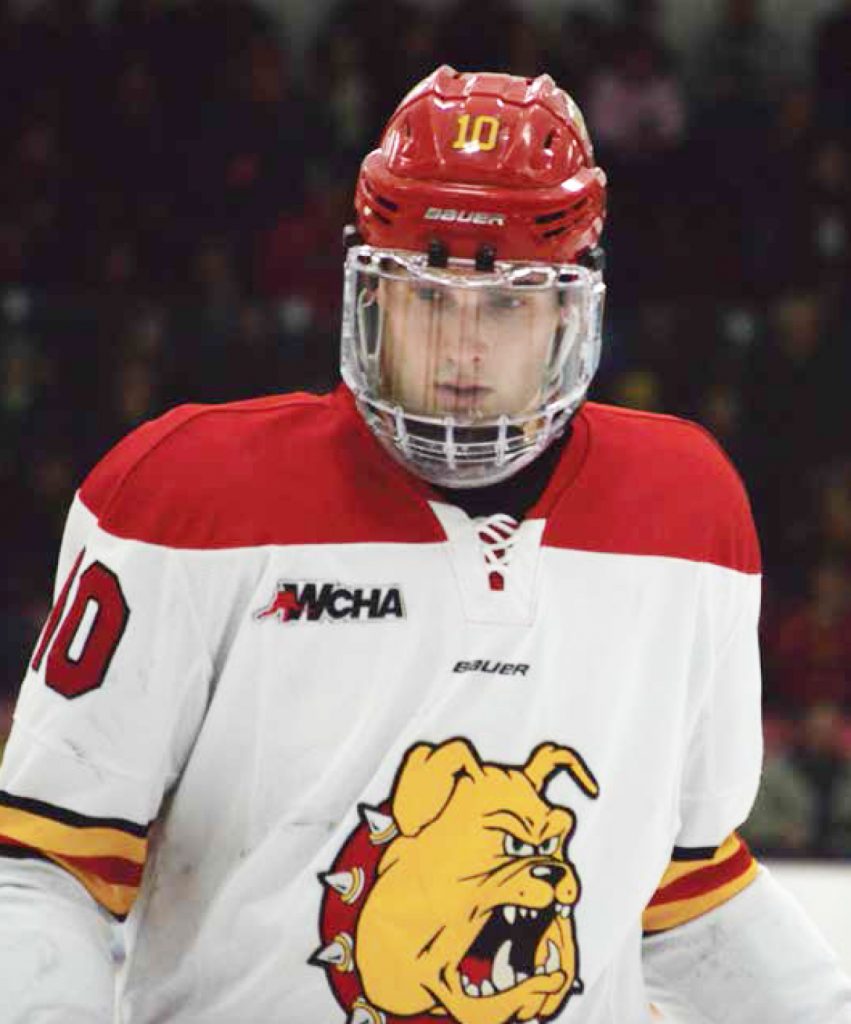 While the Ferris hockey team has had trouble finding consistency this season, one freshman has made an impact that could lead the program back to the top.
20-year-old Ferris freshman Coale Norris has developed into a solid young forward fitting in towards the top of the lineup for head coach Bob Daniels. The game of the 6-foot-1, 194-pound freshman from Oxford has soared since early November where he potted his second collegiate goal against brother Josh Norris on the road against Michigan in front of a sold-out crowd full of friends and family.
"I actually think since that point my game has taken off. I'm feeling more confident with the puck and as you grow, you get to know guys more. It's a big step to college. The kids playing are four to five years older than you. I think things have been going better for me lately," Norris said.
Norris now has seven goals and eight assists for 15 points on the season in 30 games, putting him fourth in team scoring, a pretty large feat for a player that has just recently worked his way into playing top minutes for the Bulldogs.
Early on, Norris showed glimpses of what he could be, but in recent weeks, he has really impressed. Not only has Norris been able produce well, including a three-point weekend in a series sweep against Michigan Tech two weeks ago, but he has also shown dominance while possessing the puck.
As his play continues to blossom, Daniels believes that there is still a level to Norris' game that he has yet to reach at the collegiate level, providing even more excitement regarding the future of the Bulldogs.
"He's part of a group of a pretty good freshman class. I like the play we are getting from him," Daniels said. "At times I don't think he understands how good he can be. He does have an NHL shot; he's got an NHL release. He's got a good head for the game and he's willing to work. Now it's just learning how to bring that every shift but he's getting there."
Daniels' points about having a lot of room left to improve are not lost on Norris as he continues working on growing as a player.
"I think the part for me is to continue to develop and continue to get stronger on pucks. Start of the year the coaches were on me to be a 200-foot player and I think I've developed that aspect so far and it's only been three-fourths of a year," Norris said.
Norris comes from a family that bleeds hockey and he has the fortune of a little family competition with brother Josh who is a freshman at the University of Michigan and a 2017 NHL first round draft pick for the San Jose Sharks.
Though Coale has the upper hand thanks to that goal back in November at Yost Ice Arena, the two continue to push each other to be better and better every day.
"He's definitely my best friend and we talk on a daily basis. We're both pretty hard on ourselves so to have someone to talk to daily is huge. He's a big part of my life and the way we play the game of hockey I think we both impact each other in a big way," Norris said.
Ferris fans can hope that the Norris brothers continue to push one another because so far, the outcome has been good. Norris has found a zone in the Bulldogs lineup and the sky might just be the limit on where Norris is able to help lead Ferris in the next few years.
Click here for more coverage of Ferris State hockey.