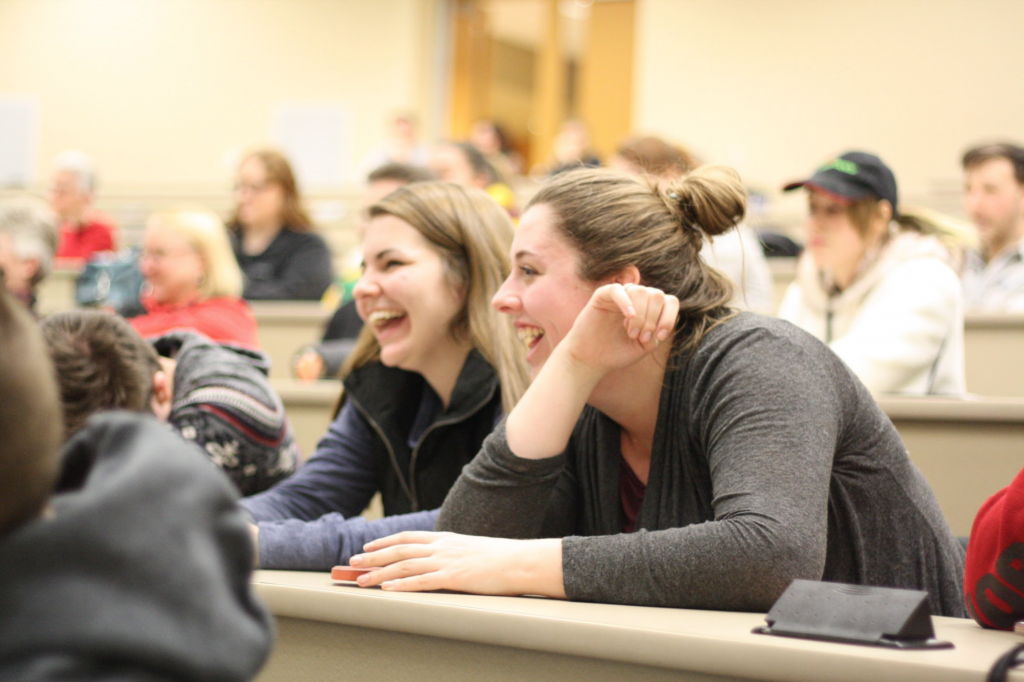 The crowd stayed involved through active participation and frequent laughter during the Ferris Improv Troupe's performance on campus.
The improv RSO performed on Friday, Feb. 2, in Business 120 as part of the Big Rapids Festival of the Arts. The diverse crowd of about 40 people was full of students, staff and local residents of all different ages. The energetic audience was full of laughter before the event even started and the laughs were consistent and loud for most of the performance.
"It was hilarious. I appreciated the skill that comes with comedy on the spot," Ferris education senior Jabari Suhuba-Baruti said. "[The atmosphere] was really good. I like the idea of a small room show, you can be more intimate with the crowd and they got everybody involved and the laughs were really genuine."
The performance was done in the style of the famous improv comedy show "Whose Line Is It Anyway?" and took about two weeks to practice and prepare for, according to the improv groups chancellor Adam Jandura. Although there isn't actual rehearsing of material for improv comedy, Jandura says there is still a lot that goes into doing a show.
"I was planning this show for about two weeks. As far as the actors, though, there's no preparation for them. I gave them some basic clues about what the games we would play are but that's it, everything else is them making things up on the spot. It's about making sure that you can find solid people who are good at working together and that are able to commit to getting up on stage and putting their energy out there because it takes a lot of effort," Jandura said.
The show involved the crowd for many aspects. Suggestions from the audience were taken during multiple parts of the show and the group invited members of the audience up on stage to help with some of the scenes. One scene even allowed for any or all audience members to join in.
"The atmosphere was very welcoming to everyone, and it was mostly family friendly, I really liked seeing everyone laugh," Ferris freshman Nick Salinas said.
With the success of this show and the positive feedback from the crowd, Jandura is hoping the group will get more opportunities to perform in the future.
"This is the first performance as far as I can remember but after today, since it went so well, we're really hoping that we'll be able to more," Jandura said.
Click here for more from the Torch's News section.