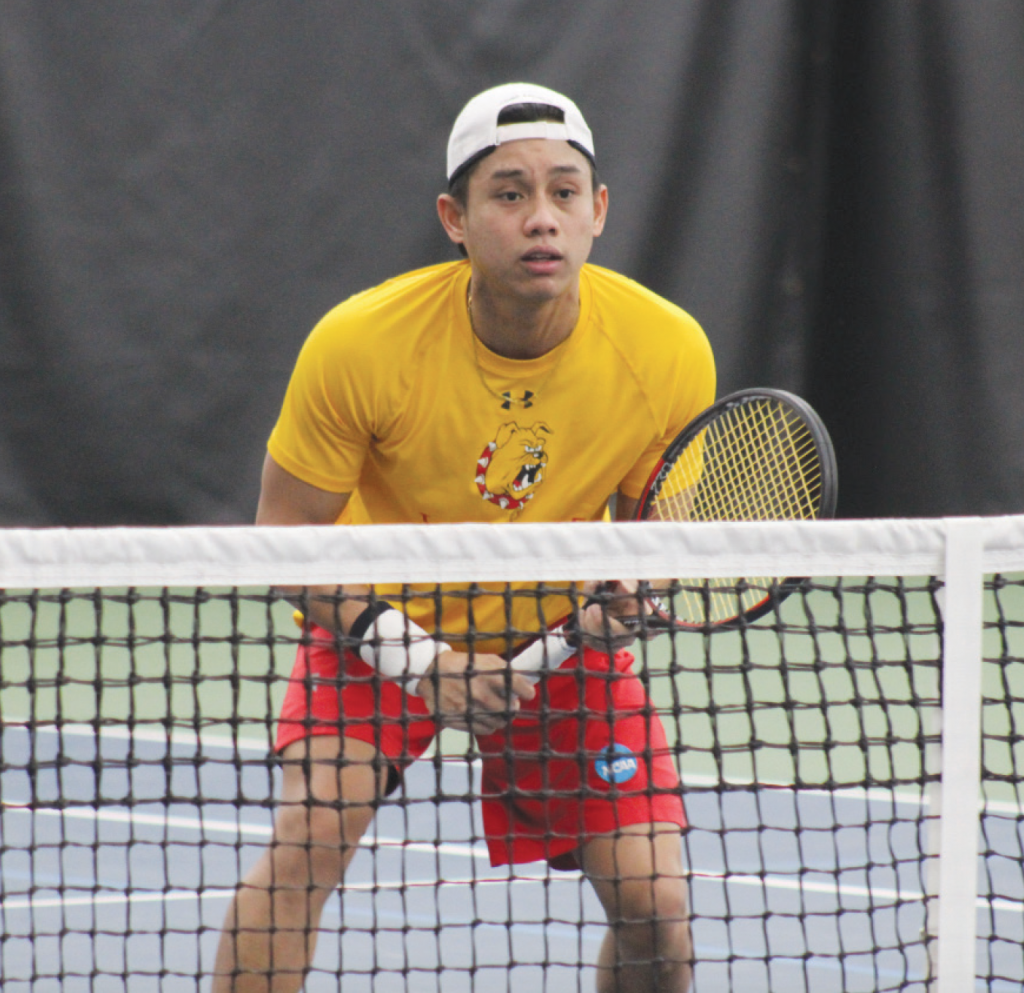 The Ferris men's tennis team began their spring season with a 9-0 loss against the No. 12 nationally-ranked University of Indianapolis Greyhounds Saturday, Feb. 3.
The Greyhounds claimed all three doubles matches and all six singles matches in the win against Ferris. Four of the six wins finished in straight sets.
"I think the loss against Indy really motivated us to get back to the practice court and start preparing us for the next match," Ferris sophomore Austin Debruyne said. "We're just trying to bring everything we have to practice and we need to make sure we are always practicing with a purpose and always giving 100 percent on the court."
This season, first-year head coach Daniel Hangstefer leads the tennis team.
Ferris came into the matchup ranked 25th in the national rankings and third in the Oracle/ITA Division II Midwest Regional Rankings. The Bulldogs were tabbed as the only team from the GLIAC to be named in the top 25 rankings in the country.
"Indy was a tough team and we went out and fought hard. It got us excited for the rest of the season and we've just been working hard at practice this week and getting ready for our next match," Ferris junior Steward Sell said.
The squad has won the last three GLIAC regular season championships in men's tennis and the team is currently the defending league tournament champions two years running.
The Bulldogs have had tremendous success in the postseason in recent years as they have made the NCAA Division II Elite Eight each of the past two campaigns. The team also made school history in 2016 by making it to the Final Four.
The team's schedule sets up nicely in the month of February as the Bulldogs host three-straight matchups in the upcoming weekends.
"We are looking forward to being on our home courts having some fans behind us and really showing everyone that Bulldog tennis hasn't gone away," Debruyne said.
The Bulldogs dominated the Northwestern Ohio Racers Sunday, Feb. 11, as they swept the doubles matches 3-0 and all three single matches to complete a 6-0 victory.
"Playing at home matches is always a lot of fun. We have a crowd cheering for us and it creates an intense atmosphere for us which we love," Sell said.
The Bulldogs will next be in action as they host the Aquinas Saints on Saturday, Feb. 17, at 11 a.m.
Click here for more coverage of Ferris State tennis.