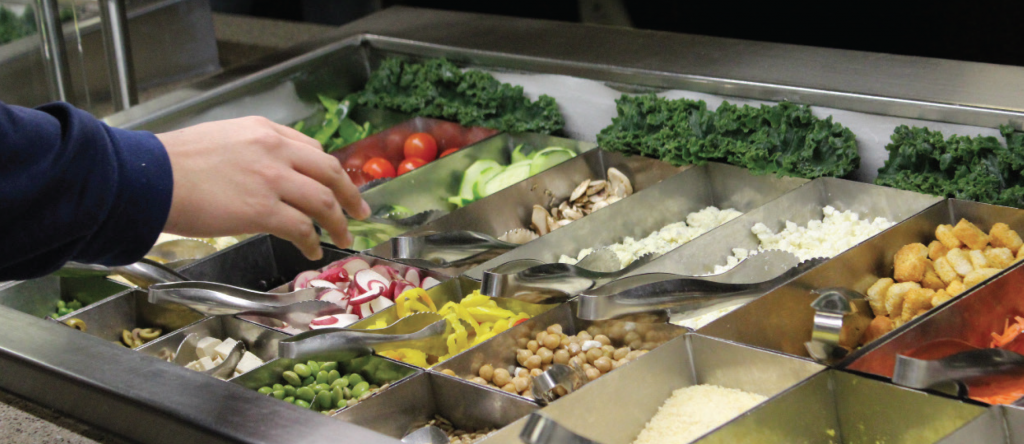 The Rock and Quad provide convenient dining to students, except for those like Ferris nursing junior Rachael Brummel, who has dietary needs that limit what she can eat.
"For me, because of my dairy and egg allergies, it's somewhat harder. It's a lot harder at the Quad than at the Rock but there's still a lot of limited options," Brummel said.
This is an issue for many Bulldogs, such as those with food allergies, as well as those who choose to eat gluten or dairy-free, vegetarian or vegan. However, Ferris Registered Dietitian Nutritionist Brenda Walton said the dining halls accommodate these needs.
"Every day, we serve a vegetarian or vegan soup as one of our three choices. If there's something, a whole food group that they're not able to get in the dining center, we will purchase things for them, or make almond milk available. We'll have things on-hand," Walton said.
Yet, some students claim that these accommodations are not always available for them upon request.
"If we have someone that can have the pizza but can't have the regular cheese that's on it, we will get dairy-free cheese for them from the grocery store," Walton said.
On the other hand, Brummel said that she requested dairy-free pizza, but nothing's happened with it.
According to Walton, students can access an allergen filter with the Rock and Quad menus on MyFSU to know which foods coincide with their diets.
"We have an allergen filter here, so if someone is trying to avoid something or has an allergy to one of these, then they'll just select it and see what contains it. You can do the reverse too, to see what the options are," Walton said.
Aside from those with dietary restrictions, some students, such as Ferris biology junior Sierra Shaw, would prefer additional healthy options at the dining hall.
"I do appreciate the Mongo and salad bars, it's a little more fresh but I think everything else is more comfort food, so it's not as great as I would like but it's still good," Shaw said.
Walton said that students should contact her if they have dietary restrictions that need modification.
"They need to come to me, and then depending on whether I just need to educate them on what to look for or what to ask for, if they have more limited choices, then we have a dietary accommodations form that we ask them to take to their medical doctor and get that completed, and then that will help us verify their need and the cooks will prepare special things for them in a safe manner to avoid cross-contact with other allergens," Walton said.
Students can contact Walton at brendawalton@nullferris.edu or (231) 591-3747.
Click here for more from the Torch's News section.