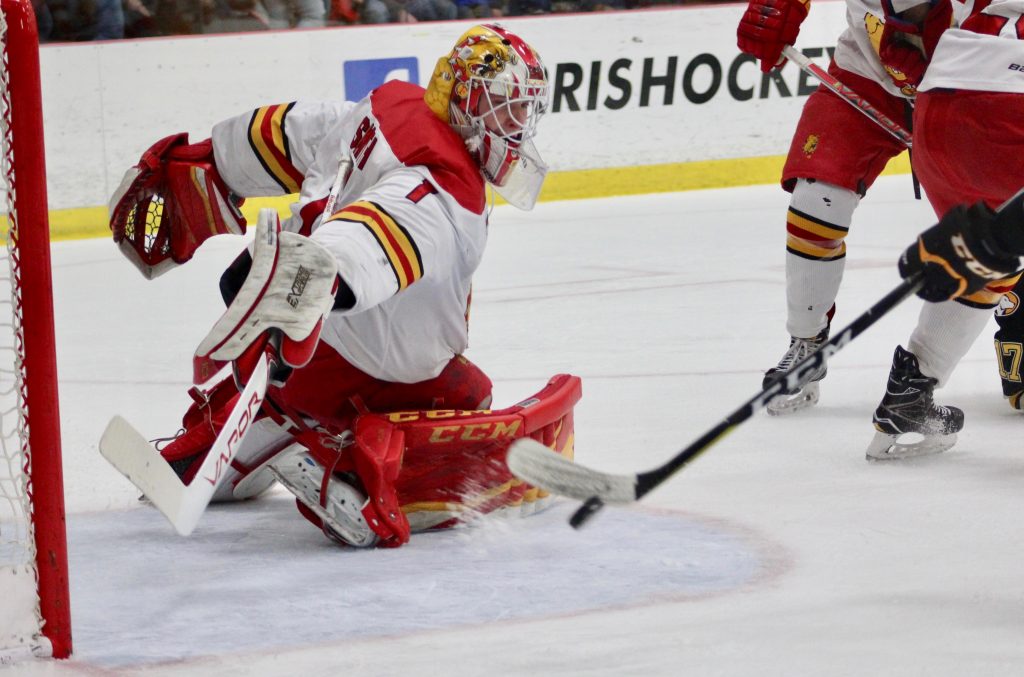 The Bulldogs are fortunate enough to have two experienced goalkeepers on their roster that have had flashes of spectacular play this season.
Ferris junior goaltender Darren Smith leads the team this season with 19 games in the crease for the Bulldogs and currently is 4-5-1 on the year with a .909 save percentage, which ranks fifth out of 14 goalies in the Western Collegiate Hockey Association (WCHA) standings.
"I feel that my season has gone well for the most part—not as many wins as I would like," Smith said. "There's been some ups and downs but overall I think it has been decent so far."
Sophomore goaltender Justin Kapelmaster has seen heavy action this season as well, starting in 15 games this season and posting a 5-7 record on the year with a .910 save percentage, which ranks fourth in the WCHA.
"On a personal note, I think my game has been strong at times and inconsistent at other times," Kapelmaster said.
The Bulldogs' defense this year has had some injuries and has forced some players to play positions that they aren't accustomed to. This has resulted in nearly 29 shots on goal per game, which can be tough for any goaltender. Kapelmaster has faced nearly 492 shots this season and Smith has faced 569 shots.
"I think we got a good thing going here. Kapelmaster is a good goalie, so we pushed each other to be the best we can be. Always having that competition keeps you on your toes and we're always trying to outdo each other and that's what you want in order to improve," Smith said.
These goaltending Bulldogs are neck and neck with their style of play and statistics on the season. However, this doesn't affect their relationship with one another and their will to compete against each other.
"Darren and I have always been close on and off the ice and we both are ultra competitive, so there's good balance between us," Kapelmaster said. "We both want to win as bad as possible so whichever one of us is between the pipes we are extremely supportive."
Smith earned the College Hockey News' best rookie goaltender in the nation award for 2015-16 in his freshman campaign and also earned the 2016 WCHA Final Five All-Tournament Most Valuable Player award.
In 2016-17, Kapelmaster was also named the College Hockey News' Best Rookie Goaltender in the Nation award.
The two goaltenders have accomplished so much in their careers at Ferris. It says a lot that Head Coach Bob Daniels can feel confident on any given night with one of them in net.
The Bulldogs are currently 12-19-1 on the season and 9-14-1 in conference play, which puts them in eighth place in the WCHA.
The top eight teams in the final WCHA standings make it into the conference tournament, with the winner of the tournament receiving an automatic bid into the NCAA tournament.
The team is coming off being swept at the hands of the Alaska Fairbanks Nanooks, where the Bulldogs fell 4-2 on Friday, Feb. 2, and 4-1 on Saturday, Feb. 3.
"As a team, I feel our season has been solid as a whole. I think we as a team would love to have a better place in the standings right now but we are excited to be in a position to make and win playoffs," Kapelmaster said. "At this stage in the season, it's all about winning games."
The Bulldogs next take on Minnesota State at 8:07 p.m. on Friday, Feb. 16.
Click here for more coverage of Ferris State hockey.