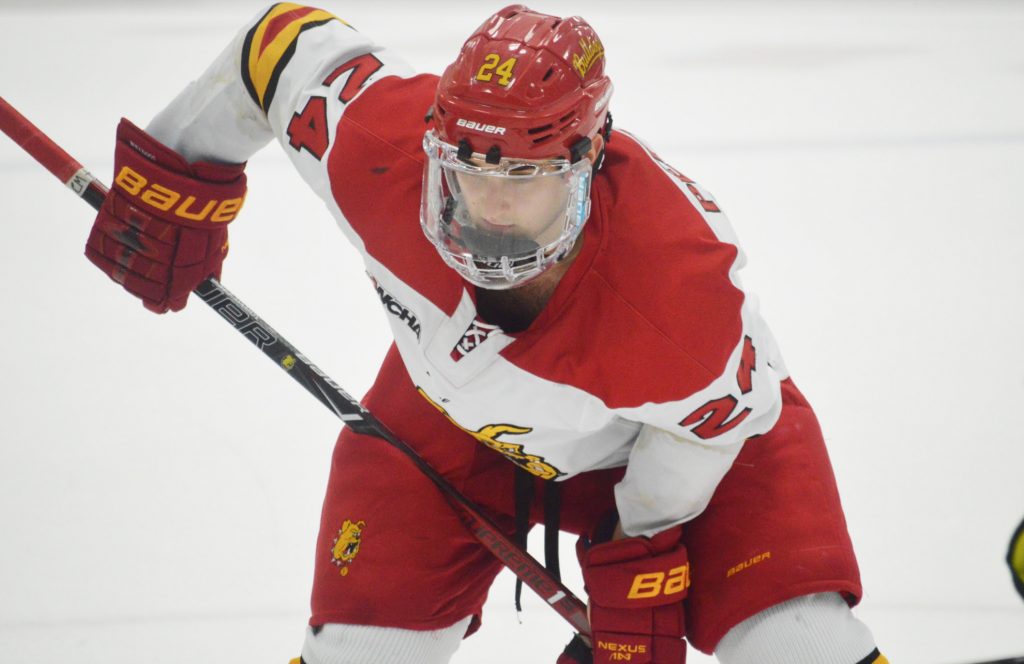 The Ferris State hockey team is now losers of four in a row after a difficult 4-2 loss on the road against Minnesota State Saturday night.
The Bulldogs were tied late in the game before the Mavericks were able to strike twice, capturing the weekend sweep. Impressively, it was Minnesota Sate's ninth win in a row not including an exhibition victory of the United State National Development Team (USNDT) a couple weeks ago.
Minnesota State senior forwad Brad McClure broke a 2-2 tie with just 2:38 remaining in the game when he snuck one by Ferris goaltender Justin Kapelmaster who finished the night with 43 saves. Senior forward CJ Suess added another for the Mavericks to extend the lead to two less than a minute later to seal the deal.
The Bulldogs trailed by a pair after the first period but responded with a better middle frame and goals from senior Jake Hetz and freshman Liam MacDougall knotted things up heading into the final frame. It was a much better second period effort than Friday night where the Bulldogs surrendered five goals in a 7-1 loss.
The Bulldogs were outshot 47-20 in the game, continuing the theme of the past month of hockey where Ferris has struggled to control the play against teams.
Head Coach Bob Daniels was not with the team on the trip due to family matters, and the team certainly missed his presence on the bench although assistant coaches Drew Famulak and Mark Kaufman did a good job getting the Bulldogs to respond in a much better effort than a night ago.
The Bulldogs sit in eighth place in the Western Collegiate Hockey Association (WCHA) after the loss and are set to do battle with a Laker Superior State team next week that has won four in a row and has a chance to unseat the Bulldogs for the last playoff spot.
The Bulldogs host the Lakers Friday (Feb. 23) and Saturday (Feb. 24) as the two teams square off for the final WCHA playoff spot. Both games are set for a 7:07 p.m. puck drop at Ewigleben Ice Arena.
Click here for more coverage of Ferris State hockey.