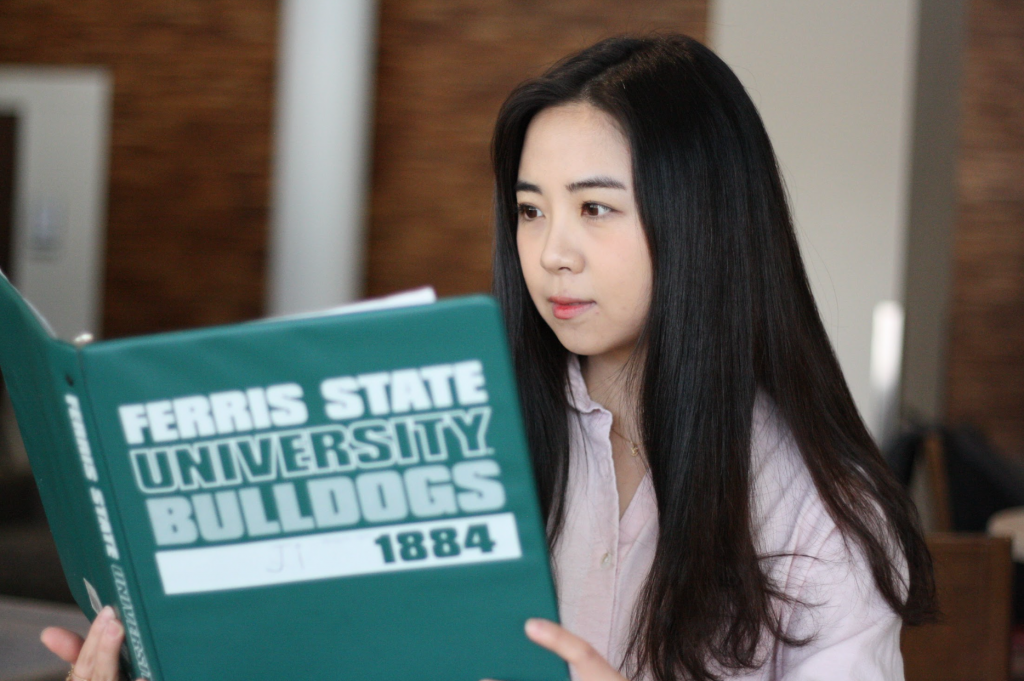 What began as a dream of learning English turned into so much more for Ferris business administration senior Jihyeon Baik.
Originally from South Korea, Baik came to Lansing six years ago as a foreign exchange student where she attended a private school to complete her high school education.
Baik, not knowing much about how to enter college in America, listened to her host parents speak often about Ferris and found herself feeling close to the university.
"Every year, Ferris has hockey games or football games and my host family got invited, so every weekend or Friday we came here and stayed at the Holiday Inn, played some golf and watched the game. Actually, I met President Eisler from my host parents because they know each other. My host family would be like, 'oh, this girl will be a Ferris student next year' and I'd be like 'oh, I never said that' but now I'm a student at Ferris," Baik said.
President of the International Student Organization, Baik has found herself missing home since staying in the U.S. for her education.
"I really miss my family, especially my dog, because I pretty much do the Facetime with my family every weekend so like I told my mom, 'call Maru'—my dog—and his ears are moving but he doesn't really know, 'where's mommy?' So I really miss my dog, every time," Baik said.
Baik notes that she also misses some of the hobbies she does at home, such as going with friends to bars. Unlike the bars she has seen in Big Rapids, South Korean bars are open 24 hours.
She also continues to celebrate customs and traditions from her home, such as Lunar New Year.
"We have New Year but different than you guys. You celebrate January 1 but we celebrate Lunar New Year. For Koreans, we celebrate and we pray for our ancestry. Then we prepare lots of food and then we gather old family members and we each gather and play games. And we get money from like my grandparents or my uncles or aunt for Happy New Year. They give money to younger people. It's kind of like Thanksgiving Day," Baik said.
Aside from her home traditions and newfound Big Rapids experiences, Baik likes to spend her spring and winter breaks traveling to other states or countries with the hopes of eventually being able to travel throughout Europe.
"I went to Mexico last spring break and last winter break I went to Cancun, and I've been to pretty much every state while traveling. My parents have said, 'You have to go or otherwise when you have a job, there is no time,'" Baik said.
After graduating, Baik hopes to work for a big company in South Korea for three to five years before owning her own trade company.
Click here for more from the Torch's Lifestyles section.