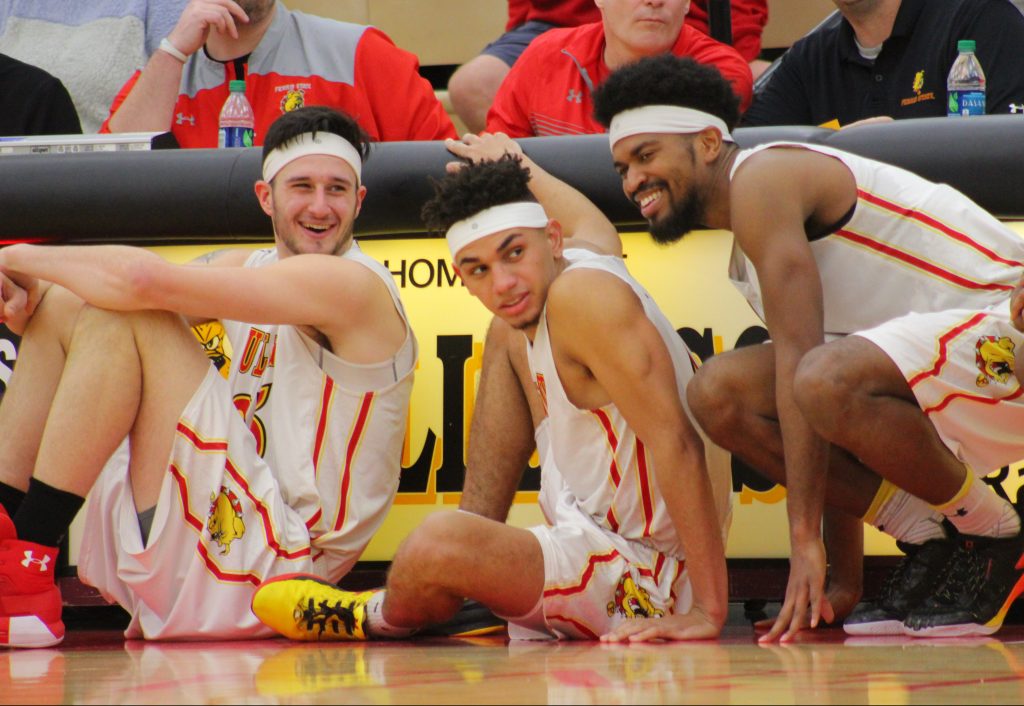 The Ferris men's basketball team celebrated a pair of wins last weekend as the Bulldogs defeated the Michigan Tech Huskies in overtime 89-84 Thursday, Feb. 15, and the Northern Michigan Wildcats 98-84 Saturday, Feb. 17.
The two victories lead the Bulldogs to their second-straight regular season Great Lakes Intercollegiate Athletic Conference (GLIAC) Championship in the last two years.
The No. 3 nationally-ranked squad has proven to be clutch in the final stretch of games all season long and has shown they have what it takes to make a deep run into the National Collegiate Athletic Association (NCAA) Division II Playoffs.
Although Ferris has found success this season, it hasn't always come easy.
On Feb. 10, the Bulldogs went on the road to play the Ashland Eagles and found themselves down three points with less than two seconds remaining in the contest. Things looked grim until Ferris junior forward Andrew Meacham launched a full court pass across the gym to Ferris senior guard Peter Firlik who tossed up a last second shot and banked in a three-pointer at the buzzer to force overtime.
The Bulldogs would go on to win the contest 97-91 in overtime.
"At first I was a little shocked but after a second and seeing Cush come running towards me, I got really hyped," Firlik said. "We all settled in and won in overtime but at first it was really crazy in that gym after my shot went in."
The team's ice in their veins continued into the Dawgs' matchup with the Michigan Tech Huskies Thursday, Feb. 15.
The Bulldogs received a massive three-pointer from Ferris senior wing Noah King with four-tenths of a second left in the contest to send the game into overtime against Michigan Tech. The Bulldogs went on to win the contest 89-84 in the overtime period.
Ferris' matchup with the Wildcats on Saturday, Feb 17, didn't see any dramatics, as Ferris junior center Zach Hankins asserted his dominance with 31 points along with 18 rebounds. Ferris senior guard Drew Cushingberry also put up 17 points to help tilt the game in Ferris' favor.
With the pair of weekend victories, the Dawgs improved to 27-1 overall on the season and 17-1 in GLIAC play.
"It feels good to contribute this season. Last year, I wasn't able to play and I was still fortunate to win a ring and this year I am actually playing and was able to add to the program's success," Ferris junior transfer guard Deshaun Thrower said. "It's special to be able to play with a group of guys that knows how to win and this team welcomed me with open arms."
The team now owns a four-game lead atop of the GLIAC and owns the No. 1 seed for the GLIAC Tournament which will be hosted in Big Rapids for the second-straight campaign.
"It feels good winning back to back championships. All of our hard work is paying off," Ferris sophomore center Cole Walker said. "I think that because we are such a close group on and off the court and it contributes to the success we have had."
Ferris will be back in action 5:30 p.m., Thursday, Feb. 22 when they take on Purdue Northwest at Wink Arena.
Click here for more coverage of Ferris State basketball.