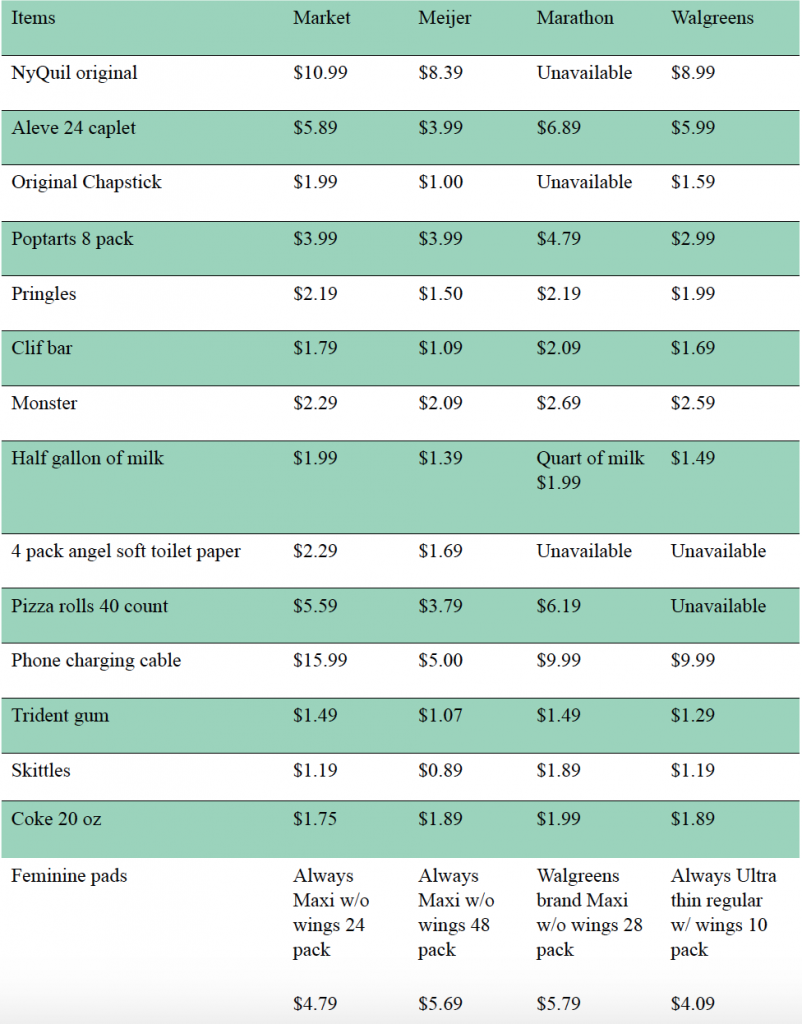 For college students on a tight budget, every cent you save can make a big difference.
The difference in price between shopping at a grocery store like Meijer or just grabbing a few things at the Market or at a gas station can be pretty significant for someone looking to save money. For example, buying a bottle of NyQuil Original from the market costs $10.99 but you can buy that same product at Meijer for $8.39. This is a difference of $2.60 or about 24 percent.
"I usually shop at Meijer and Walmart depending on the situation because they're cheap—well they're the cheapest in the area," Ferris pre-pharmacy sophomore John Nguyen said. "Gas station prices are definitely a little overpriced compared to other places like Meijer."
Some other Ferris student's echoed Nguyen's thought that Meijer was the best place to shop in Big Rapids and that gas stations tend to be a more expensive place to shop.
"Gas stations and local places are usually the more expensive options," Ferris biology freshman Brady Kirsch said. "I'd say gas stations are a little more expensive but not terribly expensive."
Smaller convenience stores like the Market typically have more expensive items because they do not buy goods in large quantities like super markets such as Meijer. For some, the increased pricing is still reasonable and worth it for the convenience.
"I just feel like Meijer has the best prices and the best quality," Ferris biology freshman Camryn Booms said. "I've bought a couple snacks from [the Market] and the prices aren't bad they're pretty typical for snacks. I use my Bulldog Bucks for those and it's a nice option to have for when I'm last minute hungry."
Click here for more from the Torch's News section.