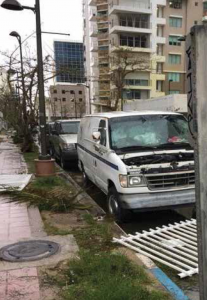 Puerto Rico is recouping from hurricane devastation and a lot of progress has yet to be made.
According to USA Today, Puerto Rico was hit by Hurricane Maria, a category four storm, on Sept. 20, 2017. It was reported that the hurricane killed at least 64 people and left the entire island without power.
Today, nearly five months after Hurricane Maria hit, many Puerto Ricans continue to struggle. According to USA Today, 99 percent of citizens have running water and 84 percent have electricity but this leaves more than 400,000 people without power.
"It's completely destroyed. The island, the infrastructure, the electricity, all the cables and everything was completely destroyed," Ferris Spanish professor Ana Davila-Howard said, who grew up in Puerto Rico and has family on the island.
Last semester, Ferris students and faculty held fundraisers to help Puerto Rico. Ferris geography professor Dr. Jennifer Johnson's students worked with the Social Work Association to raise money for Puerto Rican families.
"The credit goes to my students, not to me. I really saw it as an opportunity for them to take something they've learned and translate it into action, which is something that we really hope all students will do. Find something and instead of just saying, 'Oh, too bad,' find a way to make the world a little better," Johnson said.
Johnson's students and the Social Work Association raised $2,000, which was split amongst two Puerto Rican families of Ferris faculty members affected by the hurricane. One family was that of Ferris Social and Behavioral Sciences Secretary Janitza Sawyer-Ocasio.
"It's helping them rebuild their roof because it suffered substantial damage after the hurricane, and buy groceries and just update some things that needed to be done in the house. It was an amazing gift. It was something that I couldn't have done myself without the help of Dr. Johnson or all the students here, so I was super grateful," Sawyer-Ocasio said.
However, fundraising and donations to Puerto Rico has slowed down in comparison to when the storm first hit. Ferris psychology senior Cassie Dexter said that people should continue to spread the word about Puerto Rico's situation to raise awareness and donations.
"We everyday citizens can help by continuing to remind people that Puerto Rico is still in need of help, especially college students that are just a bit addicted to social media. We can use that as a platform to remind people that we still need to do more. If you're financially able, you can also donate," Dexter said.
Dexter also believes the U.S. government should provide more financial support to the island.
"I absolutely think the U.S. government needs to do more. These are U.S. citizens that we are talking about. No, Puerto Rico is not a state but we still have a duty to help them through the aftermath of natural disasters," Dexter said.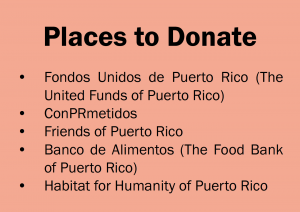 Click here for more from the Torch's News section.